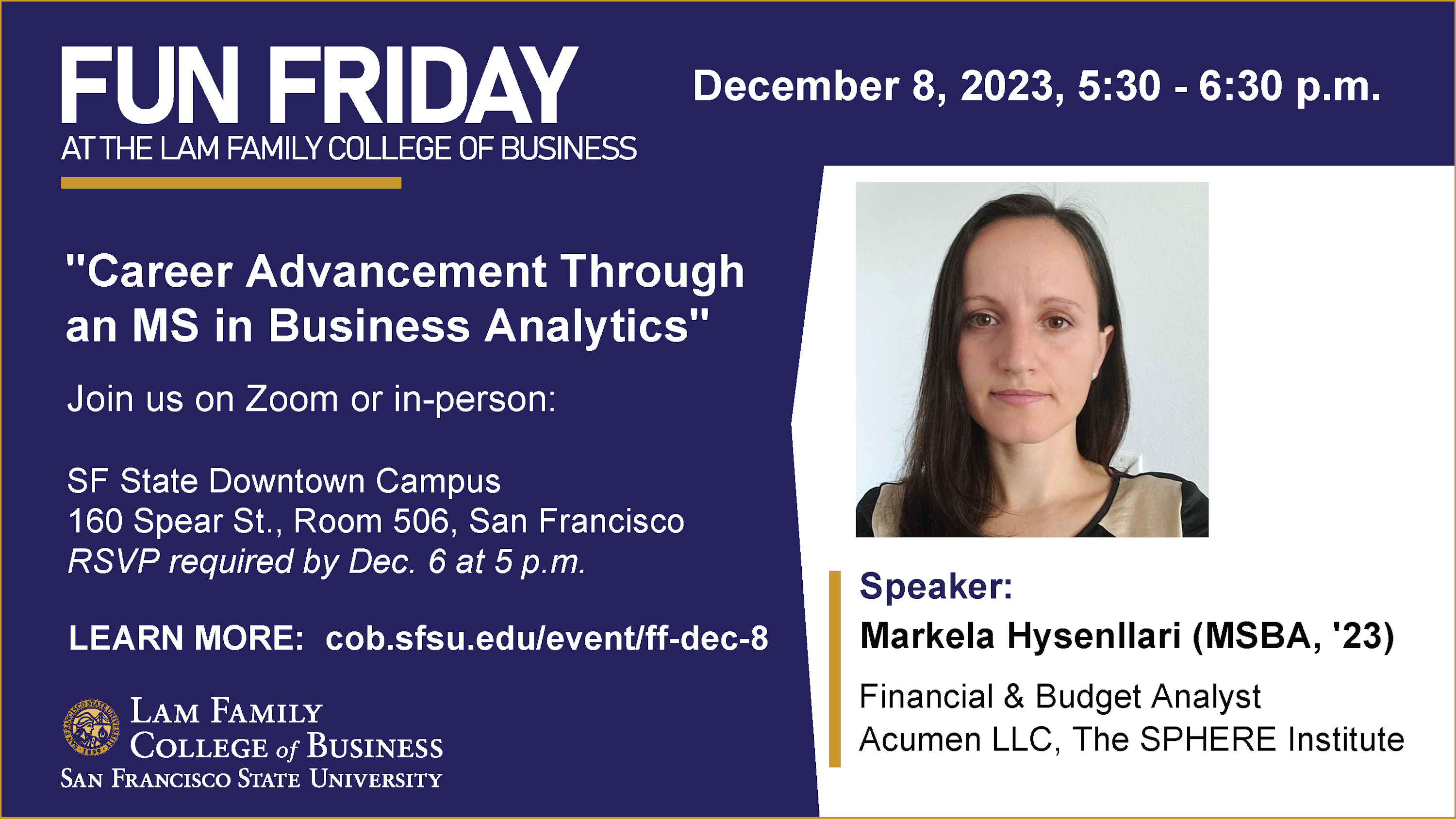 Are you thinking about pursuing a master's degree?  Join us for Fun Friday on December 8, 2023, from 5:30-6:30 p.m. for a talk on "Career Advancement Through an MS in Business Analytics." Alumna Markela Hysenllari (MSBA, '23) will talk about the opportunities and challenges she faced as she prepared for her career as a Financial and Budget Analyst at Acumen LLC, The SPHERE Institute.
Attend in-person at our San Francisco State University Downtown Campus or virtually on Zoom.  Registration is required by December 6th at 5 p.m.
Visit the Fun Friday event page to learn more and register.
Please note our Fun Friday event series is designed for prospective and current graduate business students, and alumni from our graduate business programs.
For Future Students:
Featured Student Resources
Featured Undergraduate Programs
Business analytics in one of the fastest growing fields in business! A Bachelor of Science in Business Administration with a concentration in Business Analytics can help open a wide range of in-demand and cutting-edge career opportunities for students. You can also easily complete a double-concentration with Decision Sciences or Information Systems, or a double-major with Economics.
Students enrolled in one of these programs pursue a bachelor's and master's degree simultaneously, earning graduate credit while in their junior and/or senior year, and thereby reducing the number of semesters required for completion of a master's degree. Our college offers Scholars Programs in Accounting, Decision Sciences (Business Analytics), and Economics.
Provides students majoring in business administration with a foundation in the basic concepts and practices of the business community, and with particular expertise in one or more of the 10 specialties of practice, to prepare them to think creatively and to exercise critical judgment when making business decisions.
Prepares students to become exceptional hospitality and tourism industry business leaders through experiential and personalized learning. This program is designed to provide students with a core of business education and professional hospitality and tourism management knowledge. Students can choose an elective emphasis, including: hotel operations management; food and beverage management; conventions, meetings and event management, or tourism management. 
Featured Graduate Programs
Center for Ethical & Sustainable Business