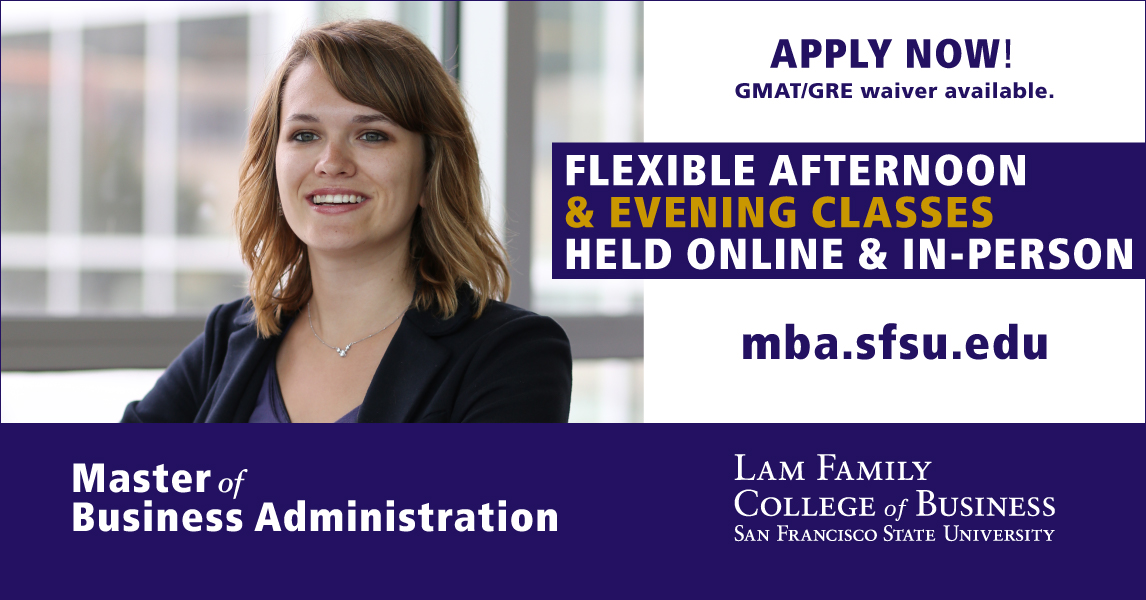 Our high-quality MBA program offers students unmatched value in San Francisco and is ranked among the top 10 Best Green MBA programs, preparing students to address environmental, sustainability, and social responsibility issues in their careers. Taught by highly trained and experienced faculty, the program's rigorous curriculum covers today's business challenges and enables students to develop the advanced knowledge and skills needed to lead and manage a broad range of businesses. The GMAT/GRE exam may be waived.
Most classes are taught in a flexible hybrid format (a combination of in-person and online), with some courses offered fully in-person or fully online. In-person classes are delivered at our San Francisco State University Downtown Campus, located in the heart of San Francisco's business, tech, and financial district.  Classes are held Monday through Friday at convenient hours for part-time and full-time students.
Visit the MBA Program webpage to learn more and sign up to attend an Information Session.
For Future Students:
Faculty Spotlight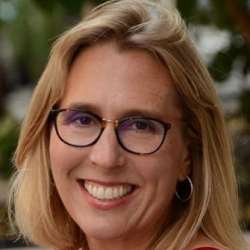 Susan Cholette, Ph.D.
Professor of Decision Sciences
Director, Center for Ethical & Sustainable Business
Lam-Larsen Distinguished Teaching Professor 2021-2023
Decision Sciences Professor Susan Cholette's early career was industry-focused — her research background in building large scale economic models that tracked greenhouse gas emissions and her desire to stay rooted in the Bay Area led to positions in supply chain consulting and project management. Through a stroke of luck, Cholette was presented with an opportunity to work in academia. Today, after two decades as a professor, she still brings her industry experiences into the classroom as a powerful tool for teaching students to build skills in forecasting, inventory management, and more.
Featured Student Resources
Contact us if you are a student experiencing difficulties and need real-time support.
Find a scholarship that's right for you.
Virtual drop-in hours for "quick questions." Hours: 10:00 a.m. – noon and 2:00 – 4:00 p.m.
Eligible undergraduate students receive personalized attention through in-class academic support and tutoring.
Featured Programs
The is a unique certificate program that fulfills management and business needs for ethics and compliance professionals in growth industries such as healthcare, biotech, pharmaceutical, information technology services and products, finance and accounting, manufacturing and hospitality.
The certificate program prepares individuals for leadership roles in organizations operating in the international environment.
The Graduate Certificate in Finance program provides students with advanced financial knowledge and skills for a professional career in the finance industry.
This graduate certificate program targets working professionals in for-profit businesses and non-profit institutions who seek to expand their knowledge of cybersecurity. The program is suitable for professionals working in the field of information systems or in other functional or service areas of an organization.
Integrating ethics, corporate social responsibility and environmental sustainability beyond the classroom.