Payment may be made by cash or check only.
Due to the effects of the pandemic, we are unable to process credit card transactions at this stage and may only accept payment by cash or check. We hope to have credit card processing available in the next few weeks, and apologize in advance for any inconvenience.
The Vista Room is a fully functional restaurant and teaching and learning laboratory that provides safe and realistic food-service work experience for students.
Managed by the Department of Hospitality & Tourism Management in the Lam Family College of Business, The Vista Room is open to the public for lunch and as a special-occasion venue during the academic year.
We serve contemporary California cuisine with a focus on responsibly-sourced ingredients and a sustainability ethos. Restaurant Manager Ryan Smith leads the service vision and execution of hospitality in the dining room. Chef Instructor Tim Shaw leads the culinary vision, food preparation and culinary instruction. 
Lunch is offered à la carte, or as a three-course $19.00+tax pre-fixe meal, which includes non-alcoholic beverages. We encourage you to make a reservation to guarantee seating, though a limited number of walk-in seats are available. The dining room opens at 11:45 a.m. and seats until 12:30 p.m. The Vista Room closes at 1:50 p.m.
We hope you enjoy your visit with us!
Our Constituents
The Vista Room has a firm commitment to serve its stakeholders:
For our students, The Vista Room is a comprehensive facility and environment in which to gain practical application of traditional classroom learning, and hands-on experience with food service, hospitality and service management.
For our guests, The Vista Room is a convenient and consistently delicious way to support our students, and to actively contribute in their experiential learning.
For our community, The Vista Room strives to be an active advocate for sustainable, responsible and equitable food production and education.
Our Instructors
Tim Shaw, M.P.A., M.A., Chef Instructor
Tim has a deep professional and culinary background that stems over 20 years. Tim's culinary work includes catering, private chef services, and extensive teaching. His research operational focus is on promoting sustainability in food systems and nutrition. Tim has been a speaker at SXSWEco on the issues of teaching about food systems, and is a judge for the Biomimicry Global Design Challenge which focuses on critical sustainability issues in food systems. To stay connected with the culinary and broader community, Tim engages with several catering companies in New York and San Francisco, and freelance writes for cookbooks and several magazines. He has donated dinners to City Year San Jose and was involved in fundraising for the Leukemia and Lymphoma Society, where he was a candidate for the 2014 Man of the Year.
Chef Tim received his BA in classics and archeology from Williams College; an AOS from The French Culinary Institute; MA in food studies from New York University; and a Master of Public Administration in Sustainable Management from the Presidio Graduate School.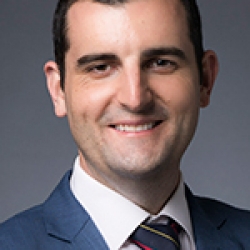 Ryan Smith, D. HTM, Assistant Professor and Vista Room Coordinator
Ryan looks after the service operations of the Vista Room. He has over 15 years of work experience (in three countries) around food and beverage with a diverse background in education, restaurants (quick service to fine dining), private clubs, ski resorts and catering in hotel banquets. Ryan has worked on several industry consultancy projects over the years in different hospitality segments. In addition, he has been invited as a conference keynote speaker and given presentations at industry conferences.
Ryan obtained a doctorate in hotel and tourism management at The Hong Kong Polytechnic University. While in Hong Kong, Ryan taught at the School of Hotel and Tourism Management for six years. Ryan has completed the Certified Hospitality Educator, Certified Hotel Administrator (the highest certification offered), and Certified in Hotel Industry Analytics certificates offered by The American Hotel and Lodging Educational Institute in addition to a Food Safety Certificate by ServSafe International.
Our Donors and Supporters
We extend our deepest gratitude to the continued support to help make The Vista Room a better training facility for the Hospitality and Tourism Department.
Yelp, Mr. Brian Pribyl, for their generous support of the online reservation system.