Four Questions with a Lam-Larsen Initiative Leader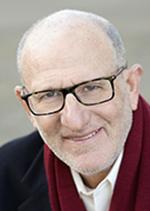 Under the Lam-Larsen Initiatives created with generous support from alumnus Chris Larsen (B.S., '84), Dean Sivadas has identified "Community Engagement" and increasing our engagement and partnership with students, faculty and the Bay Area business community as one of our strategic priorities. International Business Professor Bruce Heiman, Ph.D., has taken on the task of identifying opportunities and strategies to reach this critical goal.  
Under Bruce's leadership, our college's Lam-Larsen Community Engagement Initiative is off to a great start. We asked Bruce to share more about the work being done within this Initiative.
What is Community Engagement at the Lam Family College of Business (LFCoB)?

There are multiple ways to define Community Engagement (CE). One example: Create and participate in enriching activities that cross boundaries throughout our community. That's good, but also quite broad. At the Lam Family College of Business (LFCoB), we adopt a mission-aligned approach, reflecting our institution's priorities.

Community Engagement involves interactions of students, faculty, and staff with local and remote community members in ways that benefit everyone. Activities both within the University and outside, in the real world of business, reflect community engagement.

"Community" broadly includes meaningful experiences with local and remote groups. For example, student team members in Central America working together with our students on a product development project. Community engagement is multi-faceted; there are many paths to achieving goals and incorporating important themes. The motivation of Community Engagement is driven by the question, "How are you changing people's lives?"
What are the goals of the Lam-Larsen Community Engagement Initiative?

Incentivize projects, lower barriers to participation for students and others, provide faculty and staff with resources and rewards for engaging in CE activities, support innovative CE projects, and promote growth of existing great CE work. Innovate, nurture, and grow the college's already significant, positive impact on the community.

Through CE's five major areas of focus, the LFCoB promotes important cultural themes, taking cues from the college mission statement. CE activities support work that recognizes and addresses gender-equity issues, under-represented minorities (URMs), BIPOCs (Black, Indigenous, People of Color), and other under-served groups. Also, by supporting many small projects we impact the local SF State community (on campus) and beyond through alumni, local and remote businesses, and local pre-college institutions (e.g., high school students). CE supports experience-based learning and building of professional networks by getting students to operate in the real world, under the guidance of faculty and working professionals. Faculty strive to translate CE experiences into research projects that advance understanding of what constitutes high-performance community engagement.
How do you plan to implement the goals of the CE Initiative?

We seek to achieve our goals by supporting and investing in five specific types of activities, which include: Honoraria for guest speakers in classes; Mini-Grants to faculty and staff to support their CE projects; Awards for Excellence in CE Work; development of a data-capture tool for logging and tracking CE activities at the college; and running our college's flagship gender-equity event, the Women's Emerging Leadership Forum, an annual event tentatively scheduled for October 14, 2022.  
How's It Going So Far?

The honoraria are popular with faculty. Providing a modest payment to prominent guest speakers "levels us up" to best practices of our peer business schools in the Bay Area. Mini-Grants are the most popular activity, awarding up to $2,000 per grantee. We received applications for 11 grants, when we had initially budgeted to fund only three. Through some budgetary flexibility and the generosity of a donor, we were delighted to be able to to fund all 11 grant requests this year, giving us a truly strong start to the Lam-Larsen CE Initiative at our college.  WELF event planning is also going strong, with an energetic and hard-working Planning Committee that includes Janine Hurty (co-chair and director of Development), Professors Chenghau Hu (Economics),  Gulnur Tumbat (Marketing), and Venoo Kakar (Economics), and Robert David (community member), along with co-chair Professor Heiman.
We are proud of the Lam-Larsen Community Engagement Initiative's strong start! Visit our website to learn more about all our Lam-Larsen Initiatives.