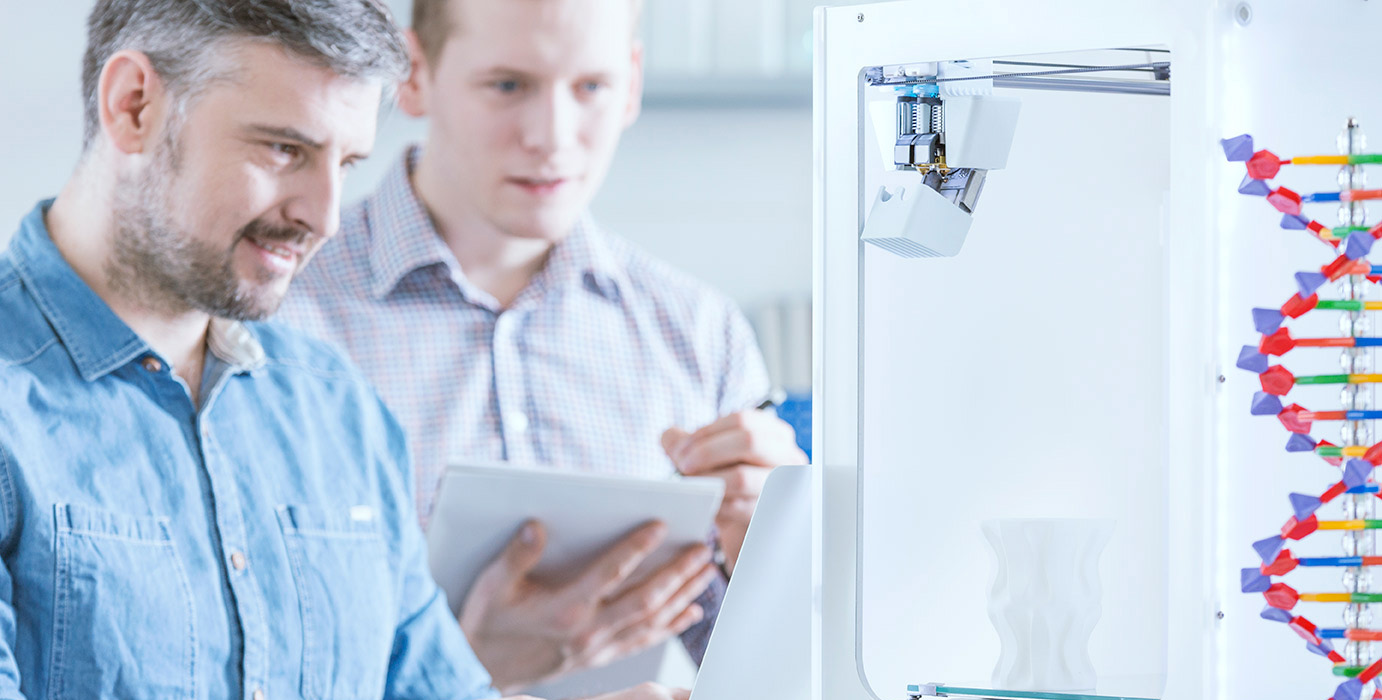 As one of the top-ranked public universities, San Francisco State University is recognized worldwide for our investments in diversity, social responsibility, and visionary academics. We prepare our students to become productive, ethical, active citizens with a global perspective, inspiring them to lead, create and innovate.
The Lam Family College of Business at San Francisco State University has been a leading institution for quality business education in the Bay Area for over 50 years, with an emphasis on preparing students for professional success in a global economy.
Is the MBA for Biotech Professionals program right for me?
I have several years of experience in the biotech industry
I have earned a four-year bachelor's degree
I'm ready to enhance my knowledge and skills for greater organizational responsibilities
"The MBA for Biotech Professionals program is great for working professionals in the life sciences industry because it provides knowledge and skills that can be applied directly in day-to-day work, as well as provides opportunities for networking."
– Patti Viri, Senior Project Manager, Genentech
The Program
Program Features and Benefits
32-month part-time program
Classes held two nights a week in South San Francisco, CA
Distinguished faculty teaching business courses
Guest speakers from biotech industry
Cohort class of diverse biotech industry professionals
Admissions
Sign up to attend an Information session to learn more about our program and admissions. Or, for urgent questions, contact us at mba@sfsu.edu.
Admissions Criteria
The admissions committee reviews an applicant's overall qualifications and takes the following requirements into consideration:
Completion of a degree equivalent to at least a four-year U.S. bachelor's degree from a recognized university
GMAT or GRE test. MBA for Biotech Professionals applicants may waive the GMAT/GRE test if at least one of the following conditions is met (applicants will instead be invited in for an interview and a 45-minute writing examination): 

Completed doctoral or master's degree from a recognized/accredited program
Minimum 3.0 GPA with five or more years of full-time, professional work experience
Completed an undergraduate degree in business from AACSB-accredited school with a cumulative 3.25 (or higher) GPA

statement of purpose
résumé
two letters of recommendation
foreign language test is required of all applicants who have earned their undergraduate degree from a country where the official language is not English. Any of the following tests taken within the past two years are accepted: TOEFL Internet Based Test minimum score of 88 (or 570 on PBT), or IELTS score of at least 7.0, or Pearson Test of English (PTE) minimum academic overall score of 65.
open to all applicants except those who need an F-1 visa to study in the United States due to part-time format of the program
Application Period
This program only accepts students in the Fall semester.
Cohort Structure
Our cohort structure facilitates the development of strong classroom relationships that blossom into long-lasting professional networks. With the same set of colleagues throughout the program, students develop a tight, supportive network within the Bay Area biotech industry. The cohort diversity provides an exciting mix of participants that creates the opportunity to develop a strong, positive learning community. Participants explore and develop individual potential, as well as learn to operate together throughout their courses. Cohort members stay in touch long past graduation, supporting one another as they progress in their careers.
Class Hours and Location
Classes are held Mondays and Thursdays, 6 - 8:45 p.m. in South San Francisco, California 94080.
Curriculum
The curriculum consists of 16 courses:
eight basic business courses
eight advanced business courses
Two courses are taken each semester during spring, summer and fall.
Participant Profile
Participants may have a four-year bachelor's degree in any subject. Many are likely to have advanced master's or doctorate degrees in life-science related fields with three to seven years of professional work experience.
Faculty
The Lam Family College of Business is honored to work with more than 120 tenure-track and adjunct faculty who are committed to excellence in teaching and innovation. As scholars and practitioners of their specific disciplines, our outstanding faculty provides participants with a relevant and challenging curriculum.
Biotech MBA Advisory Council
Our Biotech MBA Advisory Council, consisting of leading practitioners from industry and academia, meets once a semester to advise us about curriculum and outreach. Advisory Council members also participate as guest speakers in some of our classes as needed.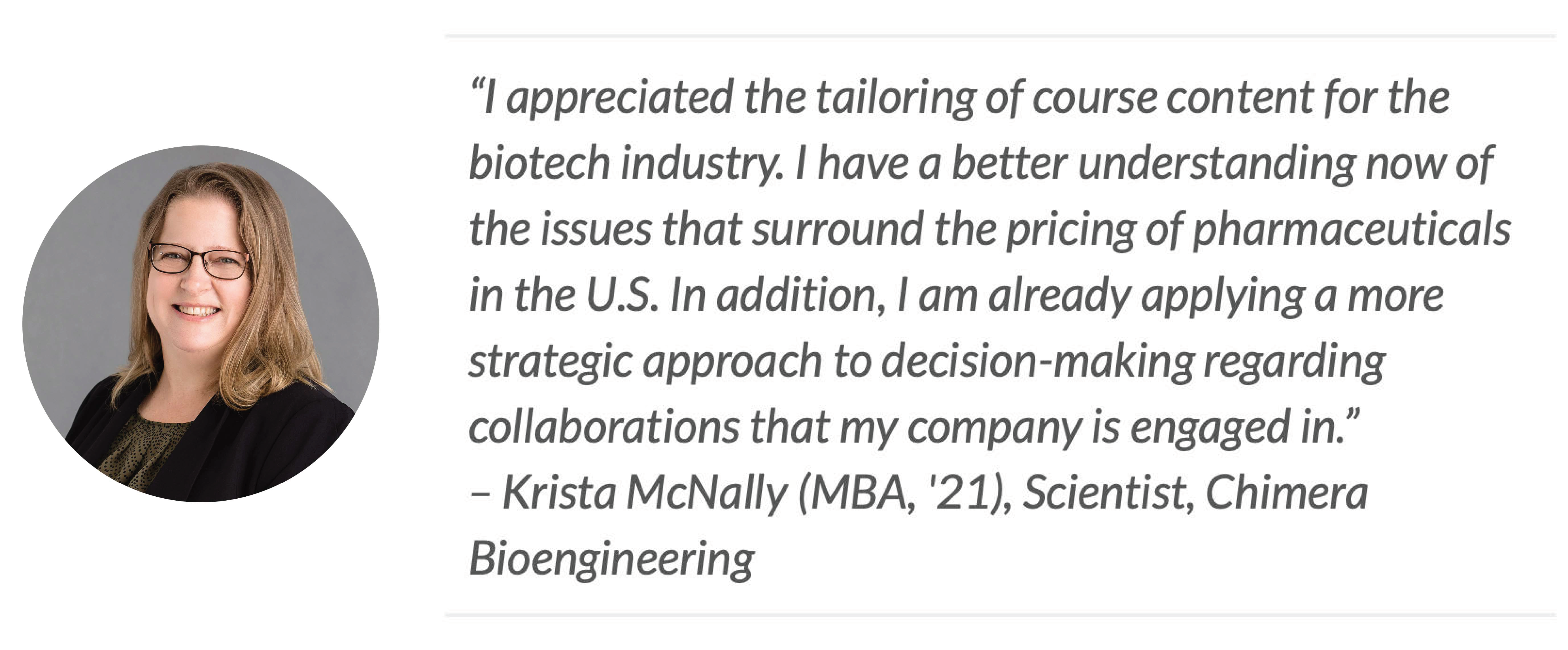 Students of our MBA for Biotech Professionals program work for some of the top employers in the Bay Area, including:

View the MBA for Biotech Professionals flyer, which is a downloadable pdf file.