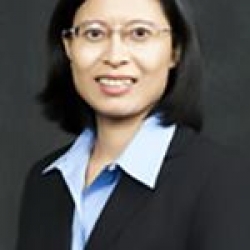 Lihua Wang, Ph.D.
( She/Her/Hers )
Professor
Phone: (415) 405-0964
Email: lihua@sfsu.edu
Location: BUS 312
Office Hours:
MONDAYS:           08:30am - 09:30am
MONDAYS:           01:00pm - 02:00pm
WEDNESDAYS:   08:30am - 09:30am
BUS 312 or Zoom
Lihua Wang is a professor at the International Business Department, Lam Family College of Business, San Francisco State University. She holds a Ph.D. degree in Management and Organizations from Northwestern University, an M.B.A. degree from the Chinese University of Hong Kong, and a bachelor's degree in International Economics from Nankai University, China. Her research interests include the internationalization of firms in emerging markets, corporate social responsibility, stakeholder management, and inter-firm relationships. She has extensive teaching experience in the areas of corporate strategy, organizational theory, cross-cultural negotiation, comparative management, international business, and global strategy. She has taught at Stanford University, Columbia University, the National University of Singapore, and San Francisco State University. She has published numerous articles in peer-reviewed journals, such as Strategic Management Journal, Industrial and Corporate Change, Journal of Business-to-Business Marketing, Management and Organization Review, Journal of World Business, Chinese Management Studies, Family Business Review, Asian Journal of Business Ethics, Journal of International Consumer Marketing, Management Decision, and Journal of Business Research.  
Education: 
Ph.D. in Management and Organizations, Northwestern University
M.B.A., Chinese University of Hong Kong
B.A. in Economics, Nankai, China
Research Interests: 
Internationalization
Inter-firm relationships
Corporate social responsibility
Main Theoretical Focus:
Internationalization
Stakeholder management theory
A resource-based view of a firm
Institutional theory
Area Specialty:
Honors and Awards: 
Lam Family College of Business Community Engagement Mini-Grant, $2000, Spring 2022.

Center for Ethical and Sustainable Business (CESB) Teaching Award, $1000, Spring 2022.

Lam Family College of Business Research Award, Spring 2022.

Lam Family College of Business Research Productivity Award, Academic Year 2017-2018.

Lam Family College of Business Research Productivity Award, Academic Year 2016-2017.

Emerald Citations of Excellence Award, 2015 from Emerald Group Publishing, for the article: Liang, X., Lu, X., & Wang, L. 2012. Outward internationalization of private enterprises in China: the effect of competitive advantages and disadvantages compared to home market rivals. Journal of World Business, 47(1), 134-144.  

CSU Summer Stipend, 2007
Grant for Social Science Research, Education Ministry of China (RMB 50,000)
Best Article of 2006, Journal of Business-to-Business Marketing
Professional Associations: 
The Academy of Management
International Association for Chinese Management Research