Keynote Speakers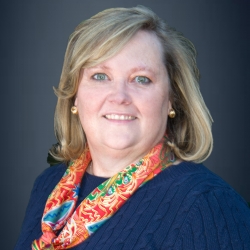 Carine Schneider, FGE
President
AST Private Company Solutions, Inc.
Carine Schneider, FGE is an experienced and well-connected executive, advisor and author in the private market and global compensation industry with deep experience working in consulting, technology, and financial services. She is the President of AST Private Company Solutions, an Equiniti company, based in Menlo Park, California. In March 2022 she was named one of the 20 Most Inspiring Women Leaders by Women Leaders Magazine. She was named one of the 100 Influential Women in Silicon Valley by the Silicon Valley Business Journal (2017), one of "17 Women to Watch" in 2017 by Brown Brothers Harriman Center on Women and Wealth, and received the 2019 ProShare Award for Services to Employee Share Ownership. In 2021, she published her first book, "The Democratization of the Private Market". Carine was formerly the President, Nasdaq Private Market (NPM), CEO of Certent, founder and CEO of Global Shares (acquired by JP Morgan), Partner at PwC, Director of Strategic Planning with Morgan Stanley, and was the Leader of the Global Stock Plan Services at Towers Watson. Carine served on the Board of Directors of Certent, Global Shares and Professional Business Women of California (PBWC). She is a frequent speaker at conferences around the world, including President Obama's 2016 Global Entrepreneurial Summit.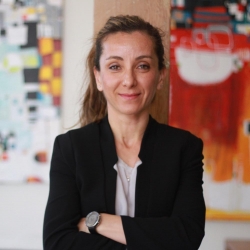 Gulnur Tumbat, Ph.D.
Professor of Marketing and Lam-Larsen Community Engagement Initiative Director
Lam Family College of Business, San Francisco State University
Marketing Professor Gulnur Tumbat, Ph.D., has used her extraordinary experiences on the highest mountains in the world in her academic research and in her speaking engagements on topics such as risk taking, making decisions in dynamic contexts, managing uncertainty, and achieving ambitious goals through strategy, leadership, persistence, entrepreneurship, and passion. She has published in prestigious academic outlets such as Journal of Marketing, Journal of Consumer Research, Marketing Theory, Consumption, Markets and Culture, Journal of Consumer Behavior, Advances in Consumer Research, European Advances in Consumer Research, and Handbook of Research on Digital Media and Advertising: User Generated Content Consumption. In addition to being a business behavioral scientist, she is an elite endurance athlete who climbed six of the seven summits including Everest, the highest points on each geographic continent with only Antarctica's remaining.
Other Speakers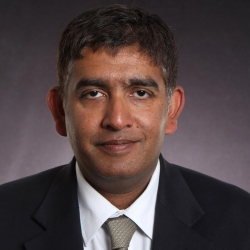 Eugene Sivadas, Ph.D.
Dean
Lam Family College of Business, San Francisco State University
Eugene Sivadas is Dean of the Lam Family College of Business. He spent 15 years on the faculty of the Milgard School of Business at the University of Washington, Tacoma where he held appointments as Associate Dean of Academic and Student Affairs, Director of the MBA Program, Coordinator of the Masters' Program in Cybersecurity & Leadership and Professor of Marketing. He also served on the University of Washington Faculty Senate, on the executive council of UW Tacoma's Faculty Assembly, as Chair of Milgard School's faculty council and as Chair of UW Tacoma's Appointment, Promotions, and Tenure Committee. He holds a Ph.D. in marketing from the University of Cincinnati and has held faculty appointments at Rutgers Business School, the University of Cincinnati, and Emerson College. Professor Sivadas has published in leading marketing journals including the Journal of Marketing, Journal of the Academy of Marketing Science, Marketing Letters, Journal of Business Research, Industrial Marketing Management etc. and has recently co-authored the 9th edition of the leading marketing channels textbook. His research has been cited more than 5,000 times.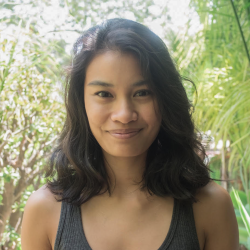 Rosey Alvero (BS, '11)
Sr. Director of People, Emmy Award Winning Host, SoCal Wanderer
AppliedVR, SoCal Wanderer
Rosey is an advocate for protecting the environment and enjoys discovering ways to achieve social justice in everyday acts, big and small. She works for startup AppliedVR, revolutionizing virtual therapeutics. She has lived and worked all over the world with her favorite stops being in San Francisco (California and Mexico), Los Angeles, New York, Paris, and Manila. It would be difficult to find her in one place, but if you do, she is likely outside hiking, surfing, skating, camping, cooking, and making memories with friends and family. Rosey is thrilled to explore the Los Angeles region as the host of SoCal Wanderer for KCET, which recently won an LA Area Emmy for Best Informational Series. 
Rosey earned her Bachelor of Science in Business Administration degree from SF State in 2011 and majored in International Business. She also holds a Master of Arts in Art History degree from La Sorbonne.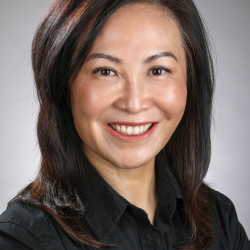 Lucy Chen 
Vice President of Claris FileMaker Platform Engineering
Apple
Lucy Chen is a strong advocate of customer obsession via amplifying greater customer-centric thinking across the FileMaker platform, which includes products for all languages. Lucy is a major FileMaker product influencer for customers to develop and implement sophisticated solutions for operations and cost-effective systems to meet their business needs. With ten years of expat experience and as the GM of FileMaker China, Lucy set up Beijing operations for R&D, sales, and marketing operations. A Silicon Valley veteran, Lucy holds a Master of Science in Information Systems Management and a Master of Education from Seattle Pacific University. Lucy was named to the "Top 50 Women in Technology in 2021" (http://top50tech.org/2021/). She is the author of "Pathfinder: A Guide to a Successful Career for First-Generation Immigrants."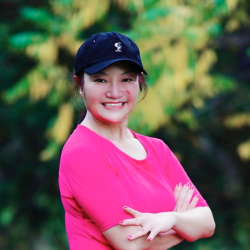 Cathy Peng
CEO
ROCS Global, Inc.
Cathy Peng has been an Executive with Fortune 100 firms, start-ups, and organizations in between, including co-founding the MyT.coach platform. She also founded a global non-profit organization, "Cathy's Fun Fitness," that has impacted over 200,000 lives to date with improved health, happiness and fitness via a network of wellness, fitness and nutrition experts. Over the course of her career, Cathy has been featured at world-class training events and seminars at leading academic institutions, such as University of Chicago, Stanford University, Harvard University, Northwestern University, Tsinghua University, and Beijing University.  Her business experience includes engaging with customers, suppliers and partners located in over 40 countries. Cathy speaks English, Mandarin, and Cantonese. Cathy's career credentials include an MBA from the University of Chicago, designation as a Tsinghua University Career Mentor and Global Executive Coach, as well as recognition in global awards, such as being named one of the "Top 10 Women CEOs of 2022" by Industry Era for Women Leaders, "The Global Woman of the year in M2M (machine to machine) Award" in 2014, and the "Business Leader of Color Award" in 2013.
Panel Moderator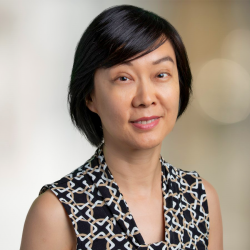 Jingmei Li
HR Consultant and Lecturer Faculty
Management Department, Lam Family College of Business, San Francisco State University
Jingmei Li, an experienced HR leader with over 27 years of experience in the US and China, has extensive expertise in the areas of global rewards and benefits design and strategy, market trend intelligence, global governance, change management and mergers and acquisitions. Experienced to scale and grow with a global organization and build cross function, cross border teams. Jingmei started her career with PWC,  managed global benefits and compensation for Oracle, Sun Microsystems and Applied Materials; changed career in 2022 to be lecturer faculty for College of Business in San Francisco State University. Jingmei obtained her MBA in University of South Florida and B.S in Economics in Northwest University in China.