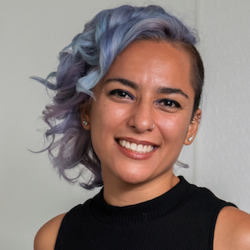 Verónica Rabelo, Ph.D.
Associate Professor
Email: rabelo@sfsu.edu
Location: BUS 221, Additional office hours also available by appointment
Office Hours:
Tue:
4:00 p.m. - 5:00 p.m.
DTC or Online
Thu:
1:00 p.m. - 2:00 p.m.
In Person- BUS 221
Verónica Caridad Rabelo, Ph.D., is an associate professor of management in the Lam Family College of Business. She uses an intersectional and interdisciplinary lens to examine how aspects of social identity—including race/ethnicity, gender/sexuality, and social class—shape experiences of mistreatment, mindfulness, and compassion in the workplace. She researches these topics from the perspectives of underrepresented, under-served, and under-studied communities, including employees who are people of color, immigrants, sexual minorities and/or lower-income. She also writes about strategies to make teaching and research methods more inclusive.
Her work has been published in Academy of Management Learning & Education, Industrial and Organizational Psychology, and interdisciplinary journals at the intersections of gender/sexuality studies, law, and social/community psychology. Her research has been funded by the Society for Industrial and Organizational Psychology (SIOP), Society for the Psychological Study of Social Issues (SPSSI), and the Ross School of Business (University of Michigan, Ann Arbor). Her honors include a Student Scholar Latina Award from the American Psychological Association (APA) and the inaugural Diversity Research Award from the University of Michigan Department of Psychology.
Education: 
B.A. in Psychology with Concentrations in Latin@ Studies and Africana Studies; Williams College, Williamstown, MA
M.S. in Psychology; University of Michigan, Ann Arbor
Ph.D. in Psychology (Personality & Social Contexts; Gender & Feminist Psychology) Women's Studies; University of Michigan, Ann Arbor, MI
Research Interests: 
Race/ethnicity, gender/sexuality, and social class in organizations
Sexual harassment, racism @ work, workplace mistreatment
Occupational health and wellbeing
Mindfulness and compassion in organizations
Intersectionality and organizational research methods
Consulting + Organizational Research Collaborations:
Accenture / Sagacious
Cazorla, EEOC vs. Koch Foods of Mississippi
U.S. Army Research Institute
Callisto
Professional Associations: 
Academy of Management
Society for Industrial and Organizational Psychology