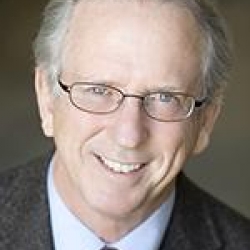 Tom Thomas, Ph.D.
Professor
Fall 2023
Phone: (415) 338-6086
Email: tethomas@sfsu.edu
Location: BUS 340
Office Hours:
Tue:
11:30 a.m. - 12:30 p.m.
In-Person, BUS 340
Thu:
5:00 p.m. - 6:00 p.m.
In-Person, DTC, or by Zoom
Professor Thomas teaches graduate and undergraduate classes in the areas of business ethics, social responsibility, and sustainability. His current research focuses on the connection between personal values and pro-environmental behaviors and decision-making.   He was Chair of the Management Department from fall 2015 through spring 2023. He has consistently focused on improving quality of instruction and access to classes. 
Before coming to San Francisco State University, he spent five years as a consultant in local economic development, market research, and PR strategy for high-tech companies. He began his academic career as an assistant professor in the University of Washington's School of Business Administration, where he spent eight years teaching courses in business, government, and society. While there, he conducted research primarily in business political strategy and corporate environmental management, and co-founded the first M.B.A. Environmental Managment program in the U.S.
Education: 
B.A. Social Science Analysis in (1976), University of Florida
M.P.P. in Public Policy Studies (1979), University of Michigan
M.B.A. (1985), University of California, Berkeley
Ph.D. in Business and Public Policy (1989), University of California, Berkeley
Research Interests: 
Professor Thomas's research has ranged from corporate political activity to sustainable business strategies to managing conflicts of interest.  Publications include:
•"Organization OR Environment? Disentangling Employees' Rationales Behind Organizational Citizenship Behavior for the Environment," with Jennifer Tosti-Kharas and Eric Lamm, Organization and Environment, SAGE Publishing, v. 30(3), pp: 187-210. September 1, 2017.
• "Legitimacy and Organizational Sustainability," with Eric Lamm, Journal of Business Ethics, v. 110(2), October 2012.
• "Educating for sustainability: A double-edged sword?," International Journal of Innovation and Sustainable Development, v. 2(3/4), 2007.
• "Kimpton Hotels – Balancing Strategy and Environmental Sustainability," with Murray Silverman,Case Studies in Sustainability Management and Strategy: The OIKOS Collection, Greenleaf Publishing, pp. 68-88, September 2007.
• "Are Business Students Buying It? A Theoretical Framework for Measuring Attitudes Toward the Legitimacy of Environmental Sustainability," Business Strategy and the Environment, v. 14(3), May/June 2005.
• "Measuring Corporate Environmental Performance," with Naomi Soderstrom and Anne Ilinitch, Journal of Accounting and Public Policy, v. 17, 1998.
• "Pollution Added Credit Trading (PACT): New Dimensions in Emissions Trading," with Stefan Schaltegger, Ecological Economics, October 1996.
• "Economics, Ecology, and Environmental Quality," with James R. Karr, Ecological Applications, v. 6(4), 1995.
• "Has Business 'Captured' the California Initiative Agenda?," California Management Review, pp. 131-147, Fall 1990.