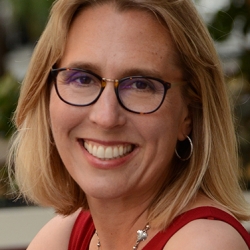 Susan Cholette, Ph.D.
Professor
On Leave for FALL 2023
Phone: (415) 405-2173
Email: cholette@sfsu.edu
Location: BUS 206C
Faculty Site URL: https://faculty.sfsu.edu/~cholette/
Faculty Spotlight: 
Decision Sciences Professor Susan Cholette's early career was industry-focused - her research background in building large scale economic models that tracked greenhouse gas emissions and her desire to stay rooted in the Bay Area led to positions in supply chain consulting and project management. Through a stroke of luck, Cholette was presented with an opportunity to work in academia. Today, after two decades as a professor, she still brings her industry experiences into the classroom as a powerful tool for teaching students to build skills in forecasting, inventory management, and more.
Click here to read the full story.
Biography:
Susan Cholette is Professor of Decision Sciences in the Lam Family College of Business at San Francisco State University where she teaches graduate and undergraduate classes in operations, supply chain management and project management. Prior to her university appointment, she served as a project manager at Nonstop Solutions (now Manhattan Associates) and as a supply chain consultant for Aspen Technologies. She earned her Ph.D. in Operations Research at Stanford University and her BSE in Electrical Engineering at Princeton University.
Her primary research interests concern supply chain efficiency and sustainability, especially for the food and beverage sectors. She has published in diverse academic journals including: Interfaces, International Journal of Production Research, International Journal of Production Economics, Supply Chain Forum: an International Journal, Journal of Cleaner Production, Journal of Consumer Marketing, Informs Transactions on Education, Journal of Optimization Theory and Applications, International Journal of Pricing and Revenue Management, International Journal of Wine Business Research, Journal of Global Marketing, International Journal of Wine Marketing. She has contributed an invited chapter to the anthology Green Technologies in Food Production and Processing.
In addition to her duties at SF State, she has taught a variety of short courses elsewhere within California, France and Italy, and she is active in the business community, serving as Scholarship Director for Women in Logisitics. She was one of the founders of the Bay Area Green Supply Chain Forum and is on the Board of Directors of PulpWorks, Inc, a startup providing greener and safer alternatives to plastic packaging. In what remains of her spare time she enjoys hiking, kayaking, skiing and travelling.
She has prepared for and taught classes at both graduate and undergraduate levels in statistics, operations, supply chain management, and project management, as well as served as an adviser for graduate level research projects.   At the moment she is currently Chair of Decision Sciences.
Education: 
B.S in Electrical Engineering with an emphasis in Engineering Management Systems (1989), Princeton University
Ph.D. in Operations Research (1996), Stanford University
Research Interests: 
Supply Chain Management
Wine Industry Analysis
Sustainable Distribution Systems
Honors and Awards: 
Lam-Larsen Distinguished Teaching Professorship Award (2021-2023)
2013: CSU "Campus as A living Lab" Grant: Analyzing the Embedded Greenhouse Emissions Associated with Transportation of Goods and Services for SFSU
2009: CSUSB Leonard Transportation Center Seed Grant Recipient

2007 SF State Vice President Assigned Time Award

2005-7 BIE Grant
Professional Associations: 
INFORMS (1996-Present)
Scholarship Director, Women in Logistics (2003-Present)
Board of Directors, Pulpworks (2013-Present)