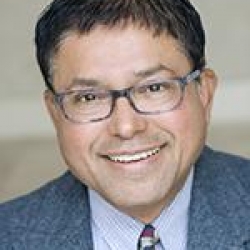 Subodh Bhat, Ph.D.
Professor
Fall 2023 Office Hours: Wednesday 5:30-6:30pm at DTC; Tuesday 3:00pm-5:00pm Online and online by appointment
Phone: (415) 817-4399
Email: sbhat@sfsu.edu
Location: CA 133A
Subodh Bhat is a professor of marketing teaching mainly marketing strategy and brand management to M.B.A. students. He has also been a visiting scholar at the Hong Kong University of Science and Technology.
His research interests include brands and branding, advertising, entrepreneurship, and high tech marketing. He has published several articles in journals such as the Journal of Marketing Research, Journal of Advertising, Journal of Consumer Marketing, and the Journal of Marketing Theory and Practice.
Education: 
Ph.D. in Marketing with an emphasis in Statistics (1992), University of Georgia
Research Interests: 
Brand Management
Controversial Advertising
Advertising Effects
Marketing Strategy
Entrepreneurship
Professional Associations: 
Member, Editorial Advisory Board, Journal of Advertising (2009 - 2016)