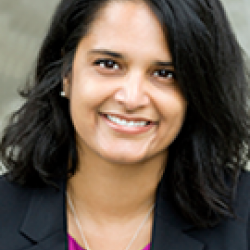 Smita Trivedi, Ph.D.
Associate Professor
Fall 2023
Phone: (415) 338-1235
Email: strivedi@sfsu.edu
Location: BUS 351
Office Hours:
Mon:
10:00 a.m. - 11:00 a.m., 2:00 p.m. - 2:30 p.m., 2:30 p.m. - 3:30 p.m.
In Person, In Person, In Person
Wed:
10:00 a.m. - 11:00 a.m., 2:30 p.m. - 3:30 p.m.
Online, by appointment, Online, by appointment
Department
Center for Ethical and Sustainable Business
Management
Smita K. Trivedi, Ph.D. is Associate Professor of Business and Society/Sustainable Business in the management department at the Lam Family College of Business. She teaches BUS 682 (Seminar in Business and Society), and has taught undergraduate strategy as well. She taught high school social studies for several years before working as the senior program officer for education and youth programs at global humanitarian aid agency Mercy Corps and starting her own social justice education non-profit project. During her doctoral studies, Dr. Trivedi worked on urban policy at the White House Domestic Policy Council, and she was the graduate teaching assistant for a special class taught at the George Washington School of Business by Dr. Ben Bernanke, the then-Chairman of the Federal Reserve.
Education: 
Professor Trivedi received her undergraduate degree from Duke University in public policy, master's degree in administration, planning and social policy from Harvard University, and in 2014 completed her Ph.D. in strategic management and public policy at the George Washington University School of Business.
Research Interests: 
Professor Trivedi's dissertation research was a mixed-method social network analysis on women entrepreneurs in the context of extreme and moderate poverty in India. She has conducted research in the areas of social and ethical bases of trust networks, education policy as well as business and peace. Her current research interests include entrepreneur social networks, business and poverty alleviation, and social sustainability.
Honors and Awards: 
Professor Trivedi was a Founder's Award recipient as an Emerging Scholar at the Society for Business Ethics in 2010, and was selected to the 2012 Oikos UNDP Development Academy.
Professional Associations: 
Since 2011, Dr. Trivedi has annually been an Associate Editor for the Social Issues in Management Division of the Academy of Management, and is an ad-hoc reviewer forBusiness Ethics Quarterly. She is an active member and presenter at the International Association for Business and Society as well as the Academy of Management.