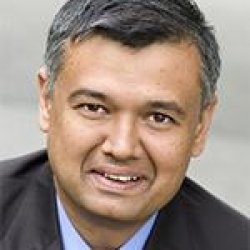 Sameer Verma, Ph.D.
( He/Him/His )
Professor, Department Chair
Phone: (415) 338-7016
Email: sverma@sfsu.edu
Location: CA 254
Office Hours:
Tue:
12:00 p.m. - 3:00 p.m.
In-Person in CA 254 (FALL 2023)
Thu:
4:00 p.m. - 5:00 p.m.
in-Person in DTC 506 (FALL 2023)
Faculty Site URL: https://faculty.sfsu.edu/~sverma/
Professor Sameer Verma is the Department Chair and Professor of Information Systems at San Francisco State University.
His research focuses on the diffusion and adoption of innovative technologies. He is currently working on several academic research projects which include the diffusion of open source software, sustainable IT in rural and remote environments, and the impact of offline networks.
In addition to his academic work, Professor Verma has worked with companies in consulting capacity in the areas of content analysis, management and delivery.
Professor Verma is on the Board of Directors of the Drupal Association. He also serves on the advisory boards of WiRED International, The Center for Ethical and Sustainable Business (CESB) at SF State, some San Francisco Bay Area technology companies. He is also the founder of the Commons Initiative at SF State, the One Laptop per Child San Francisco community, the One Laptop per Child Jamaica community and an institutional partner at the Center of Excellence, University of the West Indies, Jamaica.
Education: 
B. Engg. (1992), Osmania University, India
Ph.D. (2000), Georgia State University
Research Interests: 
Content Management and Delivery
Business Models of Open Source Software
Management of Mobile Networks
Adaptable Messaging Systems
Identity Management on Mobile Networks
Sustainable IT
Resource-constrained networks
Professional Associations: 
Decision Sciences Institute (DSI)
Association of information Systems (AIS)