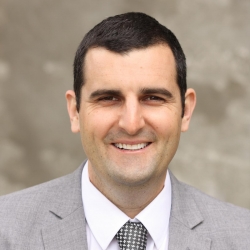 Ryan Smith, Ph.D.
Chair, Associate Professor
Phone: (415) 338-7482
Email: ryansmith@sfsu.edu
Location: BUS 342
Office Hours:
Mon:
3:00 p.m. - 4:45 p.m.
By Appointment via Zoom (FALL 2023)
Tue:
12:00 p.m. - 2:00 p.m.
In-Person at BUS 342 (FALL 2023)
Department
Hospitality and Tourism Management
Ryan left the School of Hotel and Tourism Management at The Hong Kong Polytechnic University (PolyU), where he had been for six years. While at PolyU he taught seven different subjects at the Bachelor or Higher Diploma Level and one marketing subject at the Master Level over his time there. In addition, he serves or served in various administrative roles such as Restaurant Manager, academic advisor, student club advisor, and health and safety board member. Ryan obtained a Doctorate in Hotel and Tourism Management at PolyU with his thesis centered on hotel-restaurant co-branding. He holds a Master of Science in Hospitality Management at the University of Houston with his thesis on restaurant customers dining decision making behavior; in addition, he taught as a Graduate Assistant Teaching Fellow in the kitchen of the student training restaurant.
He has an undergraduate Bachelor of Science degree in Hospitality Administration and a minor in Business Administration from Boston University. In addition, he had the opportunity to complete the Certified Hospitality Educator, Certified Hotel Administrator (the highest certification offered), and Certified in Hotel Industry Analytics certificates offered by The American Hotel and Lodging Educational Institute in addition to a Food Safety Certificate by ServSafe International. Ryan has over fifteen years of work experience, in three countries, around food and beverage with a diverse background in education, restaurants (quick service to fine dining), private clubs, ski resorts, and catering in hotel banquets. Ryan has worked on several industry consultancy projects over the years in different hospitality segments. In addition, he has been invited to give presentations at industry conferences and other institutions.