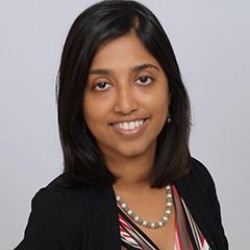 Priyanka Joshi, Ph.D.
Assistant Professor
Fall 2023
Email: priyankajoshi@sfsu.edu
Location: BUS 351
Office Hours:
Mon:
10:00 a.m. - 12:00 p.m.
Online
Wed:
2:30 p.m. - 3:30 p.m.
In Person
Priyanka Joshi is an assistant professor in the Lam Family College of Business at San Francisco State University. Professor Joshi's research interests include leadership, business ethics, and entrepreneurship. In one line of research, she examines the role of cultural interdependence on tolerance of corruption in organizations. Her more recent work examines the role of gender in communication and its effects on numerous interpersonal outcomes, including effectiveness of physician-patient interactions, leadership attributions, and ability to obtain funds from venture capitalists. Professor Joshi routinely collaborates with industry leaders to engage in research and consulting work. Her most recent work has examined strategies to improve patient experience at Optum Healthcare, University Medical Center at Las Vegas, and UNLV Medicine Clinics. Professor Joshi's research work has been published in reputed journal including Psychological Science, Journal of Experimental Psychology-General, Social and Personality Psychology Science, and Personality and Social Psychology Bulletin.
Education: 
Ph.D. in Business Administration, Marshall School of Business, University of Southern California
M.A. in Psychology,  University of Northern Iowa
B.A. in Psychology, St. Xavier's College