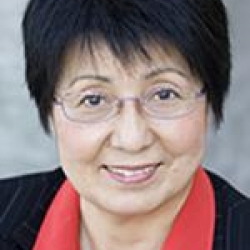 Nini Yang, Ph.D.
Professor, Department Chair
Phone: (415) 338-2987
Email: nyang@sfsu.edu
Location: CA 257
Dr. Nini Yang is professor and department chair of International Business at San Francisco State University. She holds a Ph.D. in management and an M.A. in american studies from State University of New York at Buffalo (SUNY–Buffalo). She is a U.S. Fulbright Scholar to South Africa (2001), an Oxford University Resident (U.K., 2004), and China Resident Director (2012-13) for California State University International Programs centered at Peking University, Beijing, China.
Her research covers globalization and cross-cultural management issues, such as corporate social responsibility and strategic options, SMEs and international entrepreneurship, cultural relativity of employee motivation, work-family interfaces in culturally distinct societies, gender equity and career trends, comparative industrial relations, and the changing landscape of higher education in the global economy. Her publications can be found in refereed journals, including Academy of Management Journal (AMJ), and six cooperative books.
Dr. Yang has expansive teaching experiences through three state university systems (New York, Georgia and California), and has also taught as a guest professor in Europe, Africa, and China. Her main areas of teaching include international business, comparative management, international human resource management, and global strategic management. In addition to teaching and research, Dr. Yang is actively engaged in professional services, consulting, and executive training and development programs. She has served on several ETS program committees (Educational Testing Services, headquartered in Princeton, New Jersey), including the College Level Examination Program for Principles of Management, Multi Fields Tests in Business, and GMAT. She provides book reviews and research paper reviews on a regular basis for a variety of publishers, refereed journals and academic conferences.
Education: 
M.A. (1989), SUNY Buffalo
Ph.D. (1996), SUNY Buffalo
Research Interests: 
Strategic CSR and local responsiveness
SMEs and international entrepreneurship
Work-family interfaces in culturally distinct societies
Gender equity and career paths in Western industrial societies
Cultural relativity of employee motivation and leader effectiveness
Comparative industrial relations
Higher education and human capital development in the landscape of global dynamics
Main Theoretical Focus:
Quantitative research and conceptual frameworks in international business
Strategy and comparative management
Global human resource management
Institution-based perspectives
Area Specialty:
Emerging markets, BRICS, especially China and Asia
U.S., SINO-U.S.
EU
Africa, especially South Africa