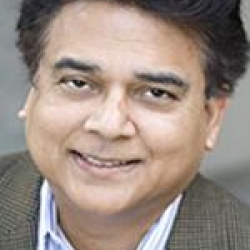 Lutfus Sayeed, Ph.D.
Faculty Director, Graduate Programs
Phone: (415) 338-6296
Email: lsayeed@sfsu.edu
Location: BUS 206D
Office Hours:
Mon:
2:00 p.m. - 4:00 p.m.
via Zoom (FALL 2023)
Thu:
4:00 p.m. - 5:00 p.m.
In-Person in DTC (FALL 2023)
Department
Graduate Programs
Information Systems
Faculty Spotlight: 
Professor Lutfus Sayeed discovered his passion for teaching and interest in quantitative subjects while working as a school teacher and market research analyst. Pursuing his doctorate in the early days of the Internet, Sayeed found a true fascination with the interaction between information management and digital technology. "Information Systems is a dynamic field," he says. "Instructors and researchers in the area have to continuously update their knowledge base and skills. That is very appealing to me."
Click here to read the full story.
Biography:
Lutfus Sayeed is a professor and former chair of the Information Systems department in the Lam Family College of Business (LFCoB) of San Francisco State University (SFSU). He was awarded the Fulbright Fellowship by the US State Department in 2002 to teach in the Indian Institute of Management Calcutta (IIMC). In addition to IIMC, he has served as a visiting faculty in Griffith University in Australia, University of Nice and Ecole Supérieure de Commerce et de Management (ESCEM) in France, Università degli Studi dell'Insubria in Italy, Universiti Kebangsaan (UKM) or the National University in Malaysia, and Instituto Tecnológico y de Estudios Superiores de Monterrey (ITESM) in Mexico. He has also taught for a summer in North South University in Bangladesh.
His current research focuses on Analytics and AI based information technology applications in healthcare, information sharing in groups using online communication tools, and environmental impacts of information technology (Green IT). His recent research interests focus on Data Analytics applications in healthcare and online education. He has published numerous research articles in journals, conference proceedings and refereed book chapters. His works have appeared in major journals such as Information Systems Research (ISR), Decision Sciences, and Information and Management. He has served as a reviewer for MIS Quarterly, ISR, Small Group Research, Communications of ACM and others. His coauthored paper in Decision Sciences is one of the most downloaded article in the journal's fifty years of history. The paper has also been cited more than one thousand times according to Google Scholar and selected in the list of 250 most cited articles in Business and Management Education.
He has been the Principal Investigator of three US Department of Education Title VI grants. In addition, he has also served as a consultant in several organziations in the San Francisco Bay Area and Atlanta.
Curricular Innovation
Professor Sayeed has co-authored the design of three academic initiatives in SFSU. First, he co-authored the design of the Master of Science in Business Analytics (MSBA) program in the Lam Family College of Business. The master's program was launched in the fall semester of 2018.
Professor Sayeed has also co-authored two certificates in Cybersecurity Management in SFSU. Additionally, he initiated a certificate program in collaboration with SAP Inc. in the LFCoB for the graduate and undergraduate students. More than two hundred students have earned the certificate since the program started in 2012.
Education: 
B.S. (1982), State University of New York
M.S. (1989), Georgia State University
Ph.D. (1991), Georgia State University
Honors and Awards: 
Lam-Larsen Distinguished Teaching Professorship Award (2021-2023)
Fulbright Fellow (December 2002-April 2003)
Best Paper Award in the MIS Track, Western DSI Conference (2001 Proceedings of the Western Decision Sciences)
Principal Investigator, Department of Education BIE Grant, $191,000
Principal Investigator, Department of Education UISFL Grant, $171,000
Principal Investigator, Department of Education BIE Grant, $178,000
Guest Fellow, Dipartimento di Economia, University dell