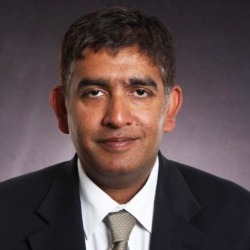 Eugene Sivadas, Ph.D.
Dean
Email: sivadas@sfsu.edu
Eugene Sivadas is Dean of the Lam Family College of Business. He spent 15 years on the faculty of the Milgard School of Business at the University of Washington, Tacoma where he held appointments as Associate Dean of Academic and Student Affairs, Director of the MBA Program, Coordinator of the Masters' Program in Cybersecurity & Leadership and Professor of Marketing. He also served on the University of Washington Faculty Senate, on the executive council of UW Tacoma's Faculty Assembly, as Chair of Milgard School's faculty council and as Chair of UW Tacoma's Appointment, Promotions, and Tenure Committee.
He holds a Ph.D. in marketing from the University of Cincinnati and has held faculty appointments at Rutgers Business School, the University of Cincinnati, and Emerson College. Professor Sivadas has published in leading marketing journals including the Journal of Marketing, Journal of the Academy of Marketing Science, Marketing Letters, Journal of Business Research, Industrial Marketing Management etc. and has recently co-authored the 9th edition of the leading marketing channels textbook. His research has been cited more than 5,000 times.