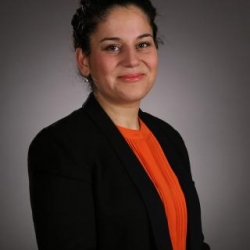 Ebru Ipek, Ph.D.
Assistant Professor
Fall 2023
Email: eipek@sfsu.edu
Location: BUS 346
Office Hours:
Tue:
12:15 p.m. - 1:15 p.m.
In Bus 346
Wed:
12:30 p.m. - 2:30 p.m.
Online
Ebru Ipek (Ph.D., Simon Fraser University, Canada) is an Assistant Professor of Management at the Lam Family College of Business at San Francisco State University. Her primary research interests are in the area of international mobility of diverse types of individuals (expatriates, self-initiated expatriates, skilled immigrants, refugees), global careers, and biculturalism. Dr. Ipek has won two best paper awards for her research on biculturalism and refugees at the Academy of International Business. Dr. Ipek has a broad area of teaching expertise in the field of management and international business and has taught courses such as Introduction to International Business, Cross-Cultural Management, and Organization Design and Change. Before her academic career, Dr. Ipek accumulated work experience at large international organizations such as Deutsche Bank, PricewaterhouseCoopers, and Siemens. Dr. Ipek lived in several countries and speaks four languages (German, English, Turkish, Spanish) fluently.
Education: 
• Ph.D., International Business, Simon Fraser University, Canada • MSc International Management, University College Dublin (and CEMS), Ireland • B.A. (Honours), International Business, Oxford Brookes University, United Kingdom
Research Interests: 
• International mobility (expatriates, immigrants, refugees) • Global careers • Biculturalism
Professional Associations: 
• Academy of Management • Academy of International Business • Western Academy of Management