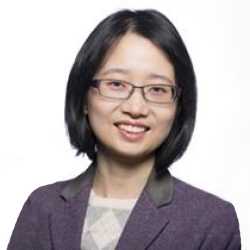 Chenwei Li, Ph.D.
Associate Professor
Fall 2023
Email: cwli@sfsu.edu
Location: BUS 112
Office Hours:
Wed:
12:15 p.m. - 2:15 p.m.
In-Person
Thu:
12:15 p.m. - 2:15 p.m.
In-Person
Chenwei Li is currently an Associate Professor of Management at the Lam Family College of Business, San Francisco State University. Previously, she served on the faculty of the Doermer School of Business at the Purdue University Fort Wayne for three years. Chenwei received her Ph.D. with a concentration in Organizational Behavior from the University of Alabama. Her primary research interests focus on leadership, employee voice and team creativity. Her work has been published in the management field's premier journals such as the Journal of Management, Journal of Organizational Behavior, Journal of Business Ethics, among others. Chenwei received the 2020 Ascendant Scholar Award from the Western Academy of Management. She has served as an ad-hoc reviewer for management journals such as Journal of Management, Journal of Business Ethics, Management and organization review etc. Chenwei teaches Leadership and Influence Skills as well as Human Resource Management courses for MBA and undergraduate programs. She has also led leadership training workshops for managers of different levels in various companies and cultural settings.
Education: 
Ph.D. The University of Alabama
M.A. Peking University
B.A. Nankai University
Research Interests: 
Leadership
Employee voice behavior
Employee and team creativity
Honors and Awards: 
Lam-Larsen Distinguished Research Professorship Award (2021-2023)
Ascendant Scholar Award from the Western Academy of Management (2020)
Professional Associations: 
Academy of Management
Western Academy of Management
International Association for Chinese Management Research
Society for Human Resource Management