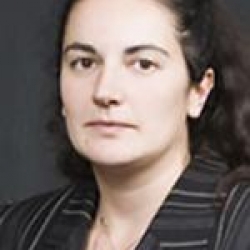 Antoaneta Petkova, Ph.D.
Professor
Phone: (415) 338-6376
Email: apetkova@sfsu.edu
Location: BUS 353/DTC 606G
Office Hours:
Wed:
1:00 pm - 3:00 pm
Online
Thu:
12:00 pm - 12:30 pm, 3:15 pm - 3:45 pm, 6:15 pm - 7:00 pm
BUS 353, BUS 353,
Faculty Site URL: http://www.petkova.org/
Antoaneta P. Petkova is a Professor in the management department at San Francisco State University. She teaches senior level strategy and entrepreneurship classes in the undergraduate and MBA programs. Her research focuses on the organizational processes that take place at the interface between young entrepreneurial firms and their stakeholders.
Education: 
Ph.D. (2006), University of Maryland
Research Interests: 
Dr. Petkova's research examines the processes of emergence and accumulation of organizational resources, such as reputation and legitimacy, which take place at the interface between institutions, organizations and their stakeholders. Favorite research contexts include new and emerging markets, such as information technologies and clean energy.
Honors and Awards: 
Aug. 2016 - Academy of Management Award for Best Paper in Management Education, sponsored by the Organizational Behavior Teaching Society (OBTS) and the Journal of Management Education (JME). The best paper is selected among all submissions to the Management Education and Development division. Fall 2016 - Development of Research and Creativity Award, Office of Research and Sponsored Programs at SFSU. Project title: "The Innovator's Dilemma: Turbulent Trajectories of Prominent Startups in The Emerging Clean Technology Sector" Aug. 2015 - Academy of Management OMT division's ABCD ("above and beyond the call of duty") award for excellent developmental reviewing and last minute availability. Aug. 2014 - SAGE/Journal of Leadership and Organizational Studies Award for Best Paper by Junior Faculty. The best paper in this category is selected by the Management Education and Development division of the Academy of Management. Spring 2013 - Research sabbatical award for one semester off at full pay. Feb. 2012 - Strategic Organization "SO! WHAT 2012 Award for Scholarly Contribution" for the best article published in 2007. The best article is selected based on citations, downloads, and qualitative impact over the past 5 years. Aug. 2011 - Academy of Management Award for Best Symposium in Management Education and Development. March 2011 - Western Academy of Management "Ascendant Scholar 2011" Award. March 2011 - Western Academy of Management "Best Paper" Award for 2011. Jun 2010 - SFSU Office of Research and Sponsored Programs research award of $6200 for AY 2010-2011. Project title: "Understanding the Emergence of Cleantech as an Industry Category and the Venture Capital Involvement with It: A Multi-study, Multi-method Research Project" Spring 2010 - Presidential Award – One semester off at full pay (Pre-Tenure Sabbatical) Aug. 2009 - Academy of Management 2007 Heizer Award for Outstanding Research in the Field of New Enterprise Development (for Best Dissertation) Jun 2009 - SFSU Office of Research and Sponsored Programs award of $3000 for AY 2009-2010 to create the "Social and Technology Entrepreneurship at SF State Research Cluster" June 2007 - California State University Summer Research Award. Apr. 2007 - SAGE Journals Online #1 Most-Frequently Read Article in Strategic Organization
Professional Associations: 
Academy of Management
Western Academy of Management