The Lam Family College of Business offers a variety of scholarships to support our students' educational goals. Funding for our scholarships has been provided by generous donors and organizations who believe in higher education and your ability to achieve academic success.
Testimonial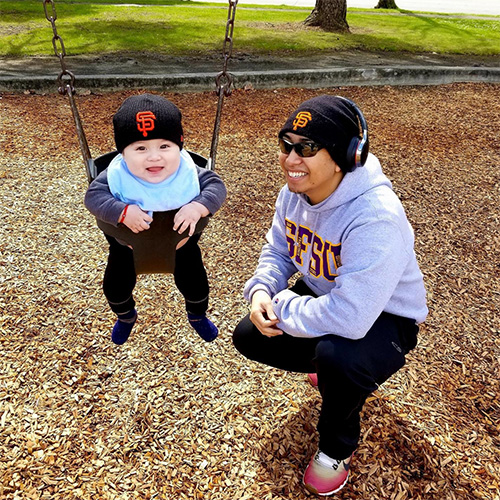 Randy Casanas (B.S., '19)
Nikon Precision and Wallace Fund for Diversity Scholarship Recipient
Randy is a new father and an ex-Marine. Receiving a scholarship helped him to stay in school and support his family while earning a bachelor's degree in business administration with a concentration in information systems.
"Despite the struggles most students my age endure in their academic endeavors, [this scholarship] gives me the peace of mind knowing there is not only government assisted financial aid, but large business out there such as Nikon to ensure there should be no excuse a student should not pursue the educational goals."
Scholarships open to all business students
Aaron Anderson Memorial Scholarship
Agid Family Scholarship Endowment
Bear Family Endowed Scholarship
Leona M. Bridges Endowed Scholarship
Michael Jon Alton Scholarship Endowment
NVP Associates, LLC Scholarship
SF State College of Business Scholarship
Wallace Fund for Diversity Scholarship
The You Can Do It Scholarship
Zoe Yan Xu Muffly Scholarship
You may apply for the Hong Kong Association of Northern California Scholarship directly on the Hong Kong Association of Northern California's website.
Scholarships by Academic Department
Accounting
Chevron Scholarship Fund
Dale McKeen Memorial Scholarship
Kawaguchi Family Scholarship Endowment
Loretta Doon Scholarship Endowment
Martinelli Family Scholarship Endowment
Ramsey Family Scholarship Endowment
SF State Accounting Scholars Program Academic Excellence Scholarship
Valerie Hashimoto Scholarship
Paul Wiese Memorial Scholarship
Decision Sciences
There are currently no scholarships specific to Decision Sciences students. We encourage you to apply for scholarships open to all business students!
Economics
Don W. Scoble Endowment Scholarship
George Feliz Memorial Scholarship
Hong Kong Association of Northern California Scholarship
Ramona K. First Award Scholarship
Ramona K. First Scholarship Endowment
Finance
FAME Scholarship
Future Investment Fund Scholarship
Hospitality & Tourism Management
Janet Sim Scholarship Endowment
Nancy Lee Mar Vista Room Scholarship
Yumi Satow Vista Room Scholarship
Information Systems
International Business
Mitsuko Duerr Endowed Scholarship
Labor and Employment Studies
Ernest C. Dillard Sr. Endowed Scholarship for Labor Studies
Yetta K. Zetoony Scholarship
Management
Kaiser Permanente Ethics & Compliance Scholarship
Linda & Nathaniel Oubré Leadership Scholarship
Marketing
Janice & John Gumas Endowed Marketing Scholarship
Legal Marketing Association of the Bay Area Erick Vargas Scholarship
Manny Mashouf Endowed Scholarship
Devlin Neil O'Connor Memorial Scholarship Endowment
Scholarships open only to graduate students