The Lam Family College of Business Congratulates the Undergraduate Hood Recipient and Honorees for 2023!
Join us in celebrating this year's Undergraduate Hood recipient and Honorees, representing each academic department and the General Business major at the Lam Family College of Business.
These graduates were selected by department faculty as Honorees for their exceptional academic achievements and service contributions to San Francisco State University and their communities. In addition, one of these 11 students received special recognition as the Lam Family College of Business Hood recipient and serves as the college's undergraduate representative at the San Francisco State University Commencement ceremony for the graduating class of 2023.
We are excited to present this year's Undergraduate Hood recipient and Honorees below: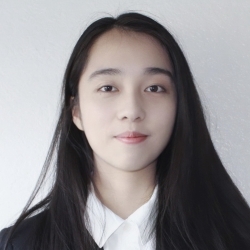 Michelle Fu – Accounting – Hood Recipient 
Michelle Fu is a first-generation college graduate. She chose to specialize in accounting because she believes it is essential for
businesses to operate efficiently and effectively. Throughout her four years of college, Michelle maintained an outstanding academic record with a GPA of 3.94, earning A grades in all of her accounting courses, and completed several Information Systems classes to meet the 150 credit hours required for the CPA licensure.
In addition to her academic achievements, Michelle is dedicated to giving back to hercommunity. She volunteered for over 200 hours in the Volunteer Income Tax Assistance (VITA) Program for two filing seasons, providing valuable assistance to individuals and families in need of help preparing their tax returns. In 2021, she became a site supervisor for VITA, coordinating the efforts of other volunteers and overseeing the successful operation of the VITA site.
Michelle also actively participated in student organizations and held various positions in BetaAlpha Psi (BAP) - Beta Chi Chapter. As director of professional development, she successfully planned and executed the second Virtual Meet the Firms event during spring 2021, which provided opportunities for students to connect with potential employers during the pandemic through a virtual format. Later, her leadership role as director of reporting ensured the accurate tracking of students' hours and involvement in BAP, which served as the basis for BAP's life member initiation.
Before graduation, Michelle received a full-time job offer as an assurance associate for Ernst and Young, where she plans to continue learning and growing as a professional. Her long-term goal is to become an entrepreneur, utilizing the knowledge and skills she has gained from her education and work experience to create a successful business and give back to society.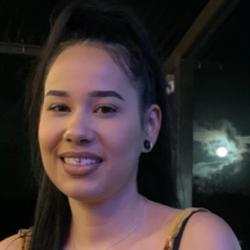 Maria Austin-Castillo - Labor and Employment Studies
Maria Austin-Castillo's mother was born and raised in Nicaragua, and was unable to complete elementary school due to her family's economic situation. Maria's parents divorced when she was young. Maria is fluent in Spanish and is currently trying to get a visa for her Nicaraguan husband, which she says is a financially and emotionally draining process.
Before transferring to SF State, Maria attended three community colleges:  Berkeley City, Laney, and Merritt. Despite her grueling work schedule, Maria has maintained a stellar academic performance at SF State, with a 3.8 GPA. Her parents' financial struggles convinced Maria of the importance of getting a four-year college education.
Maria has worked full-time in demanding jobs throughout the pandemic, when most service-sector jobs have become more stressful and dangerous. For the past year, Maria has worked over 40 hours per week – Monday to Friday, from 4 a.m. to 12:30 p.m. – at Target in Albany, where she spends her first four hours restocking shelves. Maria completes several hours of schoolwork after her 8.5-hour shift. During the prior three years, Maria worked at High Fidelity marijuana dispensary in Berkeley, where she trained new employees, and as an assistant manager at Pasta Pomodoro in El Cerrito. She would not have been able to afford college if not for these full-time jobs.
Maria has a strong commitment to her Latina heritage. During a year-long stay in Nicaragua while enrolled in college, she helped clean up schools, rivers, wasteland and parks, and educated local schoolchildren on the need to protect clean air and water.
Watching her co-workers struggle financially, suffer from wage theft, and fail to understand sick leave laws persuaded Maria to major in Labor Studies at SF State.  She intends to pursue a career that will enable her to serve SF Bay Area low-income communities, and she wants to inspire disadvantaged children who struggle academically.
With her immigrant, first-generation college graduate, working-class background, steadfast work ethic, impressive record of community service, and desire to serve under-represented communities in the Bay Area, Maria represents the absolute best of SF State, which boasts one of the nation's most racially and ethnically diverse student bodies and is a designated Hispanic Serving Institution. Maria embodies SF State's deep commitment to racial and social justice, service ethic and emphasis on an outstanding and accessible public education that benefits the community.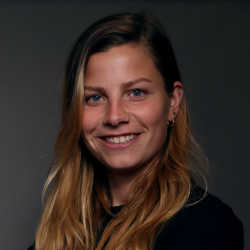 Nora Engelmann – International Business
Nora Engelmann came to SF State from Foothill College, and prior to that, from Germany. Nora is a force for equality, self-expression, and the idea that everyone has the right to follow their own path and strive to accomplish their dreams. Coming from a working-class, rural town of fewer than 20,000 people in northern Germany, Nora's dream did not match the expectations of her family and peers. Because of social, cultural, and internal family pressures, her drive to explore the unknown resulted in many difficult conversations – seeking to feel understood, often with limited success.
Nora cherishes exploring and learning from different cultures, and had an opportunity in 2015 to experience life in another country, working as an au pair in San Francisco. She subsequently returned to Germany with her now "American Dream" in sight, knowing there remained much to explore and learn. Nora worked hard and started her professional career, while still a student, in order to finance her next goal: graduating from a university in California – an expensive proposition for an international student.
Nora's exploration of international commerce and cultures drove her to enroll at SF State and share her values of community, equality, self-expression, and the drive to chase one's dreams. Her professors were effusive about having Nora in their classes. One professor remarked, "Nora has been a near-perfect student in my class. She takes her education seriously and uses every opportunity to prepare herself for a successful career." Nora has also shown herself to be an excellent team leader, consistently earning the respect of her peers.
Graduating from SF State represents the beginning of Nora's next step in realizing her dreams:  pursuing a career in international business in the diverse and international city of San Francisco. Nora's work ethic, curious nature, and drive to succeed – all of which helped her achieve her academic goals – will serve her well in her career endeavors.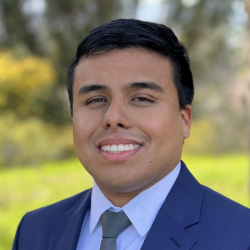 Alejandro Aceves Madriz – Finance
Born and raised in the Bay Area, Alejandro (Alex) Aceves Madriz is a first-generation college student who is pursuing a bachelor's degree in Finance. Throughout college, Alex had the privilege of receiving financial, academic and mental support from the Making Waves Foundation.
Alex considers personal finance to be an incredibly important topic and believes financial literacy is a crucial knowledge domain. His passion for personal finance ignited when he made a less-than-ideal purchase, buying a brand-new vehicle. The costly financial decision helped him realize that money was a taboo topic in his community, as it was rarely discussed openly. Alex took it upon himself to learn about personal finance and started helping his friends and family.
As his passion for financial health increased, Alex decided to switch his major from Biology to Business Finance. He pursued his passion further by becoming the co-president of the finance student organization, Financial Analysis & Management Education (FAME), and a board member of the Financial Planning Association of San Francisco. As co-president, Alex successfully led FAME's annual investment conference and coordinated several financial literacy workshops to promote awareness among SF State students. He is also affiliated with organizations such as NAPFA, CREATE, ALPFA, Wall Street Bound, and The Street Smarts.
Over the summer of 2022, Alex interned at Jackson Square Partners, completed the FPA Externship, and received his certification in eMoney simultaneously. He is continuing his education to earn his Certified Financial Planner (CFP®) designation and a master's degree in Personal Financial Planning, as he pursues a career in wealth management.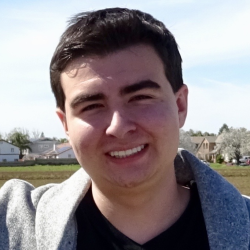 Noah Esequiel Melgoza Ortega – General Business
Noah Ortega was born and raised in Brentwood, California, a small city in the East Bay. Before transferring to San Francisco State as a junior, he attended Los Medanos College, a community college with a campus in Brentwood.
Noah took all his SF State classes online. Originally, this was due to the Covid-19 pandemic. He had planned to move to San Francisco once the pandemic subsided with the intention of attending classes in person. However, after taking his classes online during his first semester, Noah realized that this worked very well for him, since it allowed him to accomplish a few things. First, he was able to save a lot of money.  Since renting an apartment in San Francisco is very expensive, he decided to continue living at home with his parents, which allowed him to save thousands of dollars during the two years he was taking online classes at SF State. This also allowed him to focus more on school. Noah believes he did better in his classes as a result and has been able to graduate in four years. He acknowledges that by not attending classes in person, he missed out on much of the college experience, but that was the right choice for him. Noah is grateful that SF State offered all his classes online.
Noah said his professors were all very good and that he learned so much. He also stated that he really enjoyed his SF State experience and would recommend SF State to anyone. Noah is excited about the future and feels he is as prepared as he can be because of SF State.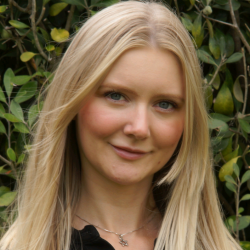 Cecilia Hanna Romanus – Management
Cecilia Romanus is an international student from Sweden who started her undergraduate degree program in Business Administration, with a concentration in Management, at San Francisco State in fall 2019. Her passion for management started when she began working as a marketing coordinator at a fast- growing startup company after high school. Seeing how the organization changed over the years she worked there made her reflect on everything from teamwork, leadership and the change in needs within the organization. Cecilia also had the opportunity to lead multiple projects and put together teams on her own, which further strengthened her passion for management and leadership. She knew this was something she wanted to build a career around, preferably in a global setting.
Cecilia has greatly enjoyed her four years at SF State, where she has combined her previous work experience in business with new learning. During her time at SF State, she has served as president of the student organization, Alpha Kappa Psi, as well as on the executive board of the Gator LinkedIn Group, and as a student leader at Residential Life. These experiences have created many opportunities for her to build her network and to aid her peers in their professional, academic and personal development. Cecilia has been especially passionate about helping to break down barriers for students to use LinkedIn as a tool to build a network and promote themselves for their future careers.
Cecilia's short-term goals are to return to SF State in fall 2023 as a graduate student in the MBA program and to expand her network among working professionals in the SF Bay Area. Her long-term goal is to focus more on research that can contribute to creating a more sustainable environment for workers in all fields of business.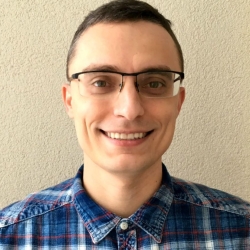 Denis (Dzianis) Shakhalevich — Information Systems
Denis (Dzianis) Shakhalevich moved to the United States several years ago. He started his educational path in Belarus. Following high school graduation, Denis attended vocational classes and worked in manual labor jobs, which left him with no time to complete his higher education. Yet, he was always interested in information technology and constantly pursued self-education. With time, his interest in tech helped him to enter the IT industry without a formal degree, and advance to leadership roles. Even so, he still had a strong desire to pursue formal higher education. He began his path to an undergraduate degree in the United States at a community college, where he earned an associate degree with a perfect GPA. After community college, Denis transferred to San Francisco State University to pursue his bachelor's degree in Business Administration with a concentration in Information Systems.
During his time at SF State, Denis remained highly focused and consistently sought ways to improve himself. He firmly believes in the value of teamwork, and he enjoyed working collaboratively with his classmates. Denis takes immense pride in being a first-generation college student and appreciates the learning opportunities SF State gave him, which helped him to graduate with the highest honors.
Looking ahead, Denis plans to earn a graduate degree in Business Administration while advancing his career in IT. He believes his experiences at San Francisco State have prepared him well for his future endeavors, and he is eager to use his knowledge to make a positive impact in the world.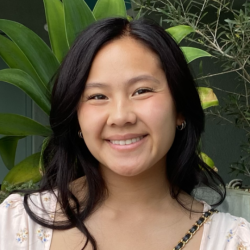 Alyssa Tran – Marketing
Alyssa Tran is driven by an enthusiasm for connection in her personal and professional life. Growing up, Alyssa understood the sacrifices her parents made for her future to ensure that she didn't go through the struggles they did. Her family's frequent visits to Vietnam while she was a child left a lasting impression on her, as she witnessed her parents' isolation and joy upon returning to their home country. Every trip was a quest for her dad to find his long-lost, childhood friends. Despite going back to Vietnam five times, her dad never found them. It wasn't until her dad discovered and reconnected with a mutual friend on Facebook that suddenly, with some searching, people he hadn't seen in decades were just a friend-request away. This experience motivated Alyssa to pursue a career in social media marketing, with her belief in social media's ability to bring positive change to people worldwide. Inspired by social media's impact on her parents, Alyssa's love of social media turned into a passion for social media marketing because of its potential to make a meaningful difference in people's lives and the business world.
While at SF State, Alyssa accomplished many things, but she is most proud of her work with the Marketing Association, a student-led organization. The organization had thrived before the pandemic but had become inactive. She recognized the significance of the Marketing Association's mission and its professional and personal impact on students. As the newly appointed president, along with a new board, Alyssa worked tirelessly to revitalize the organization. The group organized various events, including webinars, workshops, and panel discussions with guest speakers from the marketing industry. Additionally, they hosted bi-weekly social gatherings to unite students and create a sense of community. Through Alyssa's dedication and hard work, the Marketing Association regained momentum, and students became more involved and inspired. Alyssa's efforts improved the organization's operations, enhanced the career outlook for its members, and most importantly, created long-lasting connections among this peer group.
Today, Alyssa works as a marketing assistant at ICAN, a non-profit focused on raising the next generation of AAPI leaders based in the SF Bay Area, where she expands the reach of their humanitarian and culturally-responsive social programs. Alyssa hopes to use the invaluable lessons she has learned at SF State to pursue an MBA in the future, and she dreams of eventually starting her own small business, where compassion and empathy are intrinsic values.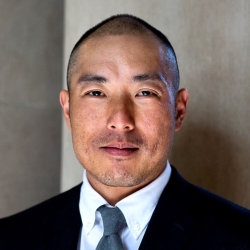 Steven Truong – Decision Sciences
Steven is first-generation Chinese American student, a child of refugees from the Vietnam War. While escaping the perils of war, they still faced dangers while living in a poverty-stricken area of Oakland, surrounded by violence, crime, and a pervasive lack of resources. In high school, he was attacked in an incident that led to hospitalization. He fell behind and became discouraged in his education.
Later as an adult, Steven worked in restaurant operations management but felt unfilled, which led him back to education. Although he feared academic failure, he enrolled in a community college and dedicated myself to earning an associate's degree in Social and Behavioral Sciences. Steven transferred to San Francisco State and, in his first year, earned a 3.97 GPA. In his second year, Steven was admitted to the Decision Sciences Scholar's Program, which allows him to earn a B.S. in Business Administration with a concentration in Decision Sciences and an M.S. in Business Analytics in as little as five years.
Steven's experiences in community service have given him insight into his career goals. He volunteered at the Beyond Borders Graduation and beamed as he witnessed DREAM students and their families celebrating their achievements. He is also an advocate for Project Rebound, which supports incarcerated students who are navigating academic processes. Steven gained a sense of purpose by serving the people around him, manifesting in a deep empathy for others and the aspiration to work in public service.
The barriers Steven has overcome have shaped the values that define him: perseverance, a growth mindset, and a commitment to service. His internship at the San Francisco Controller's Office through the Willie L. Brown Fellowship gave Steven his first opportunity to work in public service. After he completes his master's degree, Steven will continue his work in public service and will use his analytics skills to improve government processes and inform policies that address issues, such as income inequality and access to education in marginalized communities.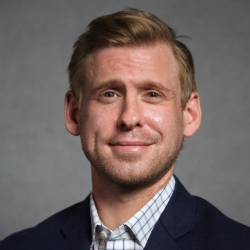 Wallace Lee Vincent – Economics
Wallace Lee Vincent, aka Tripp, moved to California in late 2019 to be a sommelier in a top restaurant in San Francisco. For years, he worked as a wine director in Seattle and felt like he was reaching a profound inflection point in his career. But the Covid-19 pandemic had other plans, and he had to pivot. He dove headlong into another world that had always intrigued him, but one that he had never given serious thought to, economics.
In the Economics Department, Tripp excelled in every class and stood out among his peers, even in the impersonal, remote setting of online courses. When the department was seeking a tutor and peer mentor to help students in bottleneck courses, he was ready to jump right in. He was very helpful to students, as well as a supportive aide for Economics professors.
Tripp is graduating with an SF State GPA of 4.0. Even though his overall GPA is lower, the SF State GPA defines his academic ability. He has been accepted into the master's program in Public Policy at University of Chicago's Harris School of Public Policy.
Tripp said that economics transformed his world. More than anything else at SF State, he enjoyed his classes and discovered he had a passion for economic policy and analysis. After graduation, Tripp wants to embark on a new career that enables him to pursue those passions to their fullest extent and be a source of positive change for his community.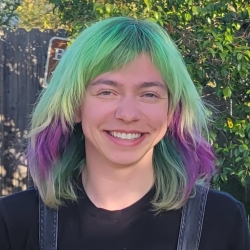 James Zablotsky – Hospitality and Tourism Management
James grew up as the child of a military family, so the question, "Where are you from?", has always been a difficult one for him to answer. With all the months spent moving, he always felt most at home in hotels and the fantasy worlds in media. No matter how strange and unfamiliar the country, hotels always maintained the perfect balance of comfort and novelty. His family also had a motto that continues to stick with him till this day: "We're not lost, we're on an adventure." James heard this phrase frequently, as they were always lost in foreign cities but were also constantly encountering incredible people, trying new foods, discovering hidden gems, and learning about the unfamiliar.
James's educational experience has been just as chaotic and fulfilling as his travels. He rarely lived in one place for more than four years and struggled to keep up with the varying educational standards between Italy, Germany, and the United States. He feels privileged to have experienced a wide variety of industries, from interning with hotels and political campaigns to musical theatre, FIRST robotics, disability support work, and social justice advocacy for LGBTQ+ youth.
Upon graduating from high school, James studied mechanical engineering at California State University, Maritime Academy for two years, where he fought to balance 20 units a semester of intense STEM courses before realizing that his true talents were best utilized working with people. The desire to find a community where he felt safe, supported, and respected as a transgender person also fueled the transfer. With the help of an associate in science degree in Business Administration from Los Rios Community Colleges, James finally found his calling studying hospitality at San Francisco State.
Today, James is developing his personnel management skills as a supervisor at Starbucks, before moving on to broaden his skill set in different food and beverage environments to prepare for starting his own business. His family's motto has now become more of a philosophy that inspires him to find excitement in the unfamiliarity, and he is driven forward by the belief that hospitality is inherently the industry of adventure, as it serves those on a journey away from home. Every moment of truth is an opportunity to shape that adventure for someone, and James is excited to employ his experiences in creating aninnovative and uniquely immersive way to experience hospitality.