The Lam Family College of Business Congratulates the Graduate Hood Recipient and Honorees for 2023!
Please join us in celebrating this year's Graduate Hood recipient and Honorees, representing each graduate program at the Lam Family College of Business (LFCoB). These seven outstanding students have been recognized with a Graduate Student Award for Distinguished Achievement. In addition, one student has been selected as the college's Graduate Hood recipient and serves as the college's graduate representative for the class of 2023 at the San Francisco State University Commencement ceremony.
We are excited to present this year's Graduate Hood recipient and Honorees below: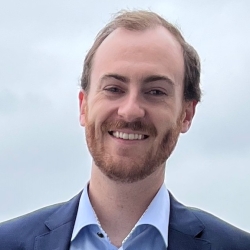 William Thomas Brogan, Master of Business Administration – Graduate Hood Recipient
William was selected as the LFCoB Graduate Hood recipient as a result of his exceptional performance in the MBA program and his service to the Center for Ethical and Sustainable Business, Net Impact (SF State chapter) and the San Francisco State University Office of Sustainability.  After earning a bachelor of science in Biochemistry and Cell Biology from University of California, San Diego, William moved back home to the San Francisco Bay Area and worked in marketing for life science products and research. The experience from that role inspired him to pursue an MBA to bridge the knowledge gaps between science and business. William chose SF State because of his family's rich history with the University – uncles, aunts, cousins, and his mom all embarked on successful careers after attending SF State.  William's professional goal is to contribute to SF State's legacy of engagement and transformation by dedicating his career to building a sustainable future for all people and the planet.
In addition to earning his MBA, William is also working towards completion of a graduate certificate in Sustainable Business.  This program includes a course specifically designed to develop innovative business strategies to address society's unmet emerging needs (MGMT 858: Innovation for Sustainability).  The basis for his final course project is to explore the social, economic, and environmental advantages of a decentralized, locally-owned electricity grid. Utilizing a service-subsidization social enterprise model, he is developing a business plan to provide low-cost power to remote regions using solar and other renewable sources. The primary goal of the organization would be to equip local stakeholders with the necessary infrastructure and training for a clean energy transition – ultimately improving community health and economic development while fortifying national energy security.
William currently works in Hayes Valley as a retail lead for Cotopaxi.  He began working for the company, which was founded as a benefit corporation, because it aligns with his values of social responsibility and sustainability.  William also volunteers for the American Youth Soccer Organization (AYSO) in his hometown, refereeing and coaching with his dad.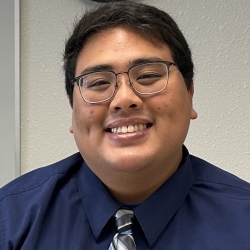 Mark Belocura, Master of Business Administration
A first-generation college student who was born in the Philippines, Mark completed his MBA in addition to a graduate certificate in Sustainable Business. As an undergraduate business student at SF State, Mark participated in the Metro College Success Program, became a member of the Beta Gamma Sigma Business Honors Society, studied abroad at Chung-Ang University in Seoul, South Korea, and graduated with honors, cum laude. 
Mark served as an advisory board member for SoMa Pilipinas and volunteered and worked with the FEC Galing Bata Program, a grassroots organization designed to provide guidance, care and protection to TK-8thgrade students both during and after school, as well as in the summer. Mark started as their Middle School Program leader and eventually took on a position as assistant coordinator, where he was able to work with the organization's leadership team in maintaining current and creating new partnerships with other local organizations to better serve their clients, many of which are low-income and/or immigrants from the Philippines. Mark also worked with K-8th grade students at Bessie Carmichael/FEC in providing Filipino bilingual (English and Filipino) cultural enrichments after school, where students of Filipinx, Filipinx-American, or non-Filipinx background are able to explore, appreciate and learn Filipino history, culture and the language.
Mark currently works with the SF State Office of International Programs as an outbound exchange study abroad coordinator. As a former study-abroad student, Mark's intention is to make studying abroad accessible, equitable, and affordable to the greater community of students at SF State.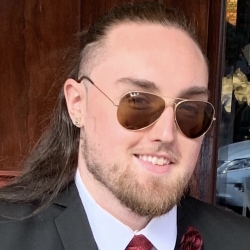 Joshua Bonse-Davis, Master of Business Administration
In addition to his MBA, Joshua has earned graduate certificates in International Business and Global Leadership, Sustainable Business, and Ethics and Compliance. A member of the prestigious Beta Gamma Sigma Business Honors Society, Joshua also served as vice president of external affairs for SF State's Veterans Club, and as vice president for the SF State Chapter of Net Impact. In his academics, Joshua has studied Mandarin for thirteen years and is proud to be able to read, write, and speak the language. Joshua once turned down collegiate football scholarships to provide full-time care for his disabled veteran parents, including his father who was a combat-wounded Vietnam veteran.
While contracted through the Department of Veterans Affairs, Joshua worked in the SF State Veterans Office as an educational benefits specialist, where he helped advise the military community on their benefits and how best to utilize them. Joshua volunteers helping disabled veterans engage in therapy projects while also serving as a guidance counselor for his alma mater, Abraham Lincoln High School's football team, mentoring at-risk student-athletes.  
Joshua completed a research project entitled "Comparative Analysis: Shifting Paradigm Towards Regenerative Business Models & the Opportunity Cost Juxtaposition – Adidas, Allbirds & TOMS." The intent of the research was to acknowledge the sacrifice sustainable businesses make in being ethical and discern ways in which to facilitate a transition towards regenerative business models. Joshua presented this project at the San Francisco State Student Research Competition, and he is seeking to publish his report. Joshua is currently applying for doctoral programs to further his academic pursuits.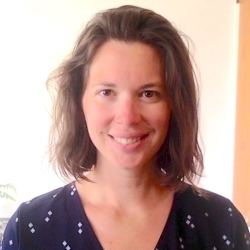 Kelsey Brown, Master of Science in Quantitative Economics
Kelsey's decision to study economics was motivated in large part by societal inequities and the influence of economic policy on socioeconomic outcomes. Despite much of her program being online, one of her top goals was to build community and show up in a genuine and authentic way to develop relationships with classmates and professors. Her professors describe her as "a stellar student and an exemplary research assistant." Kelsey spent much of her time working as a research assistant with Professor Venoo Kakar, researching student loan policies in the US. Kelsey helped create a survey designed to measure students' financial and economic well-being, which she helped field at SF State. She recently led a workshop for Howard University students on how to successfully field a survey on campus. She hopes this work will help design better student loan policies targeting vulnerable populations. Kelsey is presenting this work as a semifinalist in the 2023 SF State Grad Slam Competition, as well as in the Graduate Research Showcase, and is a co-author on the project. She also worked as an RA at the Federal Reserve Bank of San Francisco and analyzed data from the Small Business Credit Survey for Arizona, California, Hawaii, Oregon and Washington, and the published reports acknowledge her work.
Kelsey has also had a hand in several other research projects, including one on pedagogical research co-authored with Professor Anoshua Chaudhuri, as well as assisting her on a Community Service-Learning project with the San Francisco Small Business Commission on small business recovery in San Francisco. She provided service to the Economics Department as an instructional and research assistant, grader, and graduate assistant and mentor for the Student Success and Graduation Initiative (SSGI), and return-to-campus efforts. Kelsey was an officer in the Economics Student Association (ESA).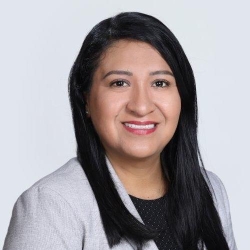 Karen Orta Gonzalez, Master of Science in Accountancy
Originally from Mexico City, Karen grew up in the San Francisco Bay Area. She always had an affinity for business. Karen discovered her passion for the field of accounting at SF State and completed her bachelor of science in Business Administration (Accounting) with honors, summa cum laude. During her graduate studies, she received the Dream for Academic Excellence Scholarship and was the recipient of the Academic Excellence Scholarship for the San Francisco State Accounting Scholars Program.
Karen's culminating experience study analyzes the effectiveness of the Sarbanes-Oxley Act in mitigating fraud in financial reporting.  After dissecting multiple case studies and research papers, she concluded that the Sarbanes-Oxley Act has proved beneficial in financial reporting, albeit fraudulent reporting is still pervasive on the street.
Karen volunteers with the Accounting Career Awareness Project (ACAP). Her service with ACAP includes visiting with high schools in Oakland to promulgate the importance of an academic education as well as the imperativeness of diversity in the accounting field. Karen serves on the District English Learner Advisor Committee (DELAC) Board at her son's school in Fairfield and in her spare time, enjoys working out, playing chess with her son, and salsa dancing.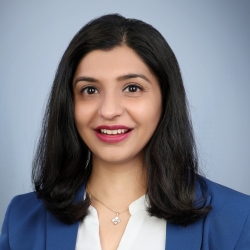 Saumya Jaiswal, Master of Science in Business Analytics 
After completing an MBA in Marketing and accumulating 5+ years of experience in the banking industry, Saumya made a difficult decision to move to the United States, return to academics and learn analytical techniques.  Overall, she is satisfied with her decision and has found the journey to be quite rewarding. Saumya is currently employed as a marketing analyst intern at SAP Signavio, a leader in the business process management domain. During the fall 2022 semester, she also had the opportunity to work with the SAP Innovation Unit as a data analyst intern, where she successfully delivered a proof of concept framework for automating a tax compliance process. 
An active member of Beta Alpha Psi's Beta Chi Chapter, Saumya served as a research assistant to Professor Minu Kumar, assisting with the Lam-Larsen Responsible Innovation & Entrepreneurship Initiative at the Lam Family College of Business. Additionally, Saumya served as a research assistant to Professor Ian Sinapuelas, scraping user feedback on Google Play applications. She also performed sentiment analysis by using natural language processing algorithms and gaining a holistic perspective on evaluating user reviews from a textual viewpoint, which will facilitate better user experiences.    
For her culminating experience research project, Saumya is developing a targeting model for High Country News (HCN), a non-profit organization client, showcasing her comprehensive approach to resolving business issues. The aim of the project is to find geolocations within the U.S. that may have potential donors for HCN and broaden its audience base.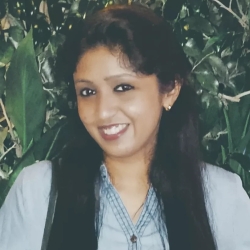 Kratika Sharma, Master of Science in Business Analytics
After acquiring six years of professional experience in pharma, retail banking, travel and financial services, Kratika joined the Master of Science in Business Analytics (MSBA) program to supplement an already strong understanding of descriptive, predictive, and prescriptive analytics.  In addition to working toward completing the MSBA program this semester, Kratika is working with Tesla as a technical program manager. In this role, she works with various stakeholders and cross-functional teams to build a robust and centralized database to track all training requirements of the team. She has developed a centralized operational process to track trainings of 500+ field service technicians in commercial energy operations, which aims to reduce labor effort by 10+ hours.
Kratika worked as a research assistant with Professor Chenwei Li on the Lam-Larsen Responsible Innovation and Entrepreneurship Research Initiative and as a teaching assistant with Professor Ramesh Bollapragada. Her culminating experience project has her working on creating a documentation recommendation engine for Guidewire Software, Inc. This project aims to explore and implement an AI-based recommendation engine that provides users with useful information related to what they are doing. Upon successful completion of this project, users of this company documentation site should be able to see related webpages if they are on a particular webpage, saving them time exploring documentation.
Kratika is a lively person who believes that hard work and dedication can help you achieve many things in life. In her free time, she enjoys playing competitive board games, such as Terraforming Mars.