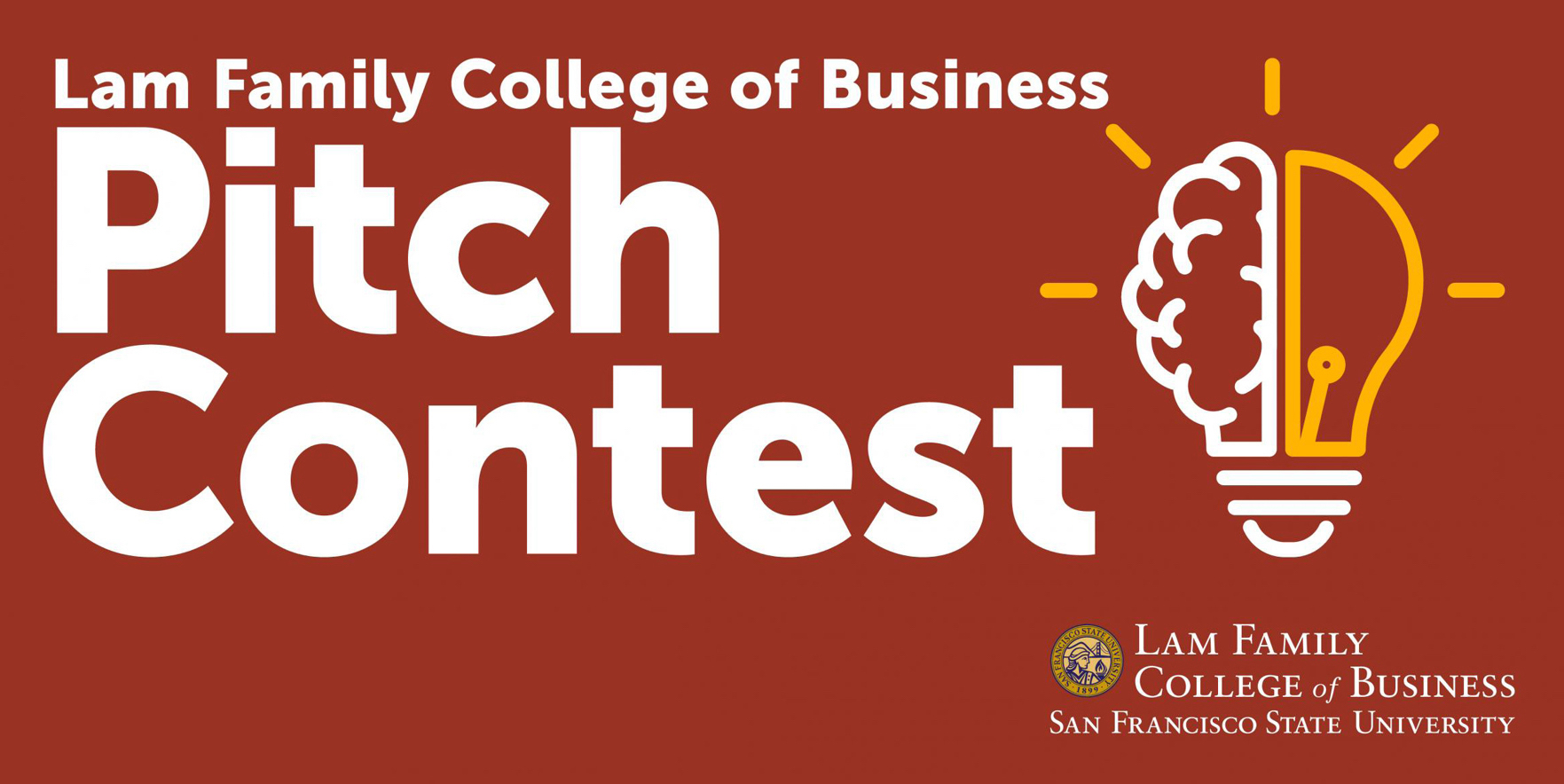 Lam Family College of Business (LFCoB) undergraduate and graduate students with an innovative business idea or a startup are invited to compete in the LFCoB Pitch Contest.
The top three pitches win cash prizes!
This is a great opportunity for LFCoB students to hear feedback about their sustainable innovative business ideas from industry experts and business faculty. Students can apply for the Innovation Pitch Competition with the same idea. We welcome any stage of entrepreneurial ideas related to the Sustainability Theme—from the ideation phase to ready for angels and seed!
First place: $500, plus automatic acceptance to the SF State Innovation Pitch Competition to be scheduled in 2024.
Second place: $300
Third place: $200
Important Dates and Deadlines for 2024:
Applications Open: Feb 19, 2024
Applications Close: March 3, 2024
Acceptance Notification: March 12, 2024
Pitch Contest Day: March 15, 2024
Event Location 
The Pitch Contest will be held virtually on Zoom.  Please register in advance, and we will send you the Zoom link.  REGISTRATION HAS NOT OPENED YET.
To Enter the Pitch Contest
Submit your application and pitch deck (APPLICATIONS ARE NOT OPENED YET).
Applications will be reviewed, and finalists will be notified through text and email.
Selected applicants are invited to present live in front of the judges panel.
Winners will be announced at the closing ceremony of the LFCoB Pitch Contest.
Read the full terms and conditions for your application.
Entry and Evaluation Criteria
Requirements
One of the cofounders and the presenter must be a student currently enrolled at least part-time at the Lam Family College of Business. The pitch contest is open to business and entrepreneurial ideas and startups from all industries and at any stage in the startup cycle related to Sustainability Theme.
Judging
The preliminary round of judging focuses on finding a compelling and convincing innovation or entrepreneurial story, based on a 10 to 15 slide pitch deck (PDF and PowerPoint files accepted only).
The most successful entries typically demonstrate:
A clear value proposition for a clearly defined target market.
Who is the prototypical consumer of your innovation, and why would they pay for your solution? What problem of theirs does your innovation solve? What need(s) does your innovation fulfill?
A clear explanation of how you are able to solve the consumer's problem. 
How or why does your solution work? What enables your solution to fulfill customer needs better than anything/anyone else out there?
Traction in the marketplace.
Is there demonstrated product-market fit? Do you have evidence that your idea or prototype is desirable to, adopted by, or sought after by a market?
A well-articulated revenue model. 
How does this innovation generate revenue? What recurring revenue streams are created? Who's paying, and how are they paying for your offering?
A founding team that is set up for success. 
Does the founding team have the right technical expertise to execute the innovation? Is this something that the founders will continue to pursue after graduation?
Register to Watch the LFCoB Pitch Contest
All are welcome to join us on Zoom to watch students pitch their ideas at the LFCoB Pitch Contest.  Please register in advance, and we will send you an email with the Zoom link.  REGISTRATION IS NOT OPENED YET.
Past LFCoB Pitch Contest Winners
First Place:  Green Solutions – Heven Kibreab (B.S. in Business Administration, International Business student), Founder
Second Place:  New Intern – Sean Matturano Sebers (B.S. in Business Administration, Marketing student), Founder
Third Place and Voted Fan Favorite:  BrewIT! – Santiago Escobedo (B.S. in Business Administration, Marketing student), Founder
First Place:  ReMind – Rellie Padilla (B.S. in Business Administration, Management student), Founder
Second Place and Voted Fan Favorite:  Baked! – Angelina Healy and Bianca Morales (both are M.S. in Accountancy students), Co-Founders
Third Place:  Ola – Maiyoom Huynh (M.S. in Business Analytics student), Founder