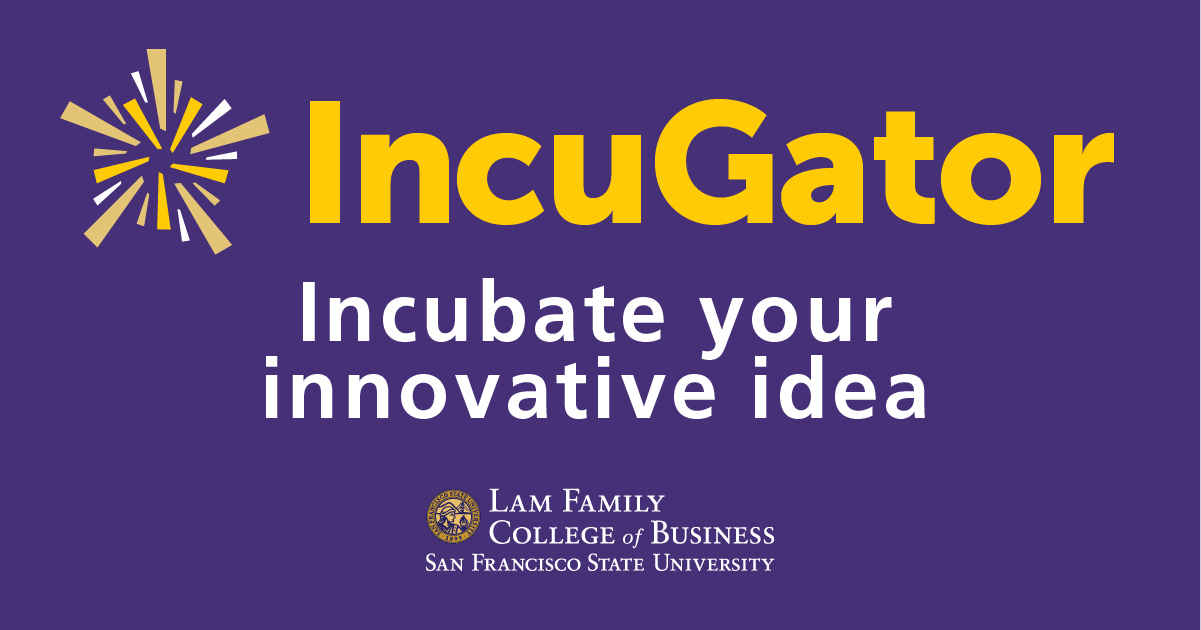 The San Francisco State University IncuGator (SFSU Gator + Incubator) is an innovation and entrepreneurship incubator designed to help bring to fruition the innovative ideas and entrepreneurial visions of SF State students of all majors and levels. Every year, we select up to six of the most promising concepts (or up to 36 individual students) to join a year-long incubator cohort.
Applications for 2021/2022 now open.
Applications Open: September 20, 2021 – November 12, 2021
Rolling acceptances starting September 27, 2021
About the Program
IncuGator was initially founded in 2018 as the Innovation & Entrepreneurship Fellows Program. With a generous grant from MUFG Union Bank, N.A, the program became a part of a larger Innovation and Entrepreneurship (I&E) initiative at the Lam Family College of Business - designed to help SF State students build the skills, network and confidence to become entrepreneurs.
Today, IncuGator serves as the concept incubator for SFSU students of all majors and degree programs. Founders and concepts from IncuGator have gone on to win pitch competitions, join other incubation programs, and find their next iteration after graduation.
IncuGator is guided by a diverse pool of SFSU faculty, successful industry professionals, well-connected alumni and passionate members of the extended SFSU community. Through resource access, mentorship, coaching and networking, the incubator provides the support system that enable students to bring their concepts into reality:
Resource Access – through a centralized hub of foundational business functions such as legal advising; entity formation; accounting/taxation; web hosting, development and design; UI/UX design; budgeting and financial modeling
Mentorship – We utilize our extensive base of passionate and engaged alumni, to connect our entrepreneurs and innovators with seasoned professionals that are willing to provide longer-term development, counsel and advising to students looking to pursue entrepreneurship as a career path, or those wishing to develop an innovation-mindset.
Coaching – Similar to mentorship, we tap into SFSU's alumni base, community partners, faculty, administration and staff to provide objective-oriented guidance to help our incubates make objective progress towards their concept goals. Coaching relationships are shorter-term and objectively goal-oriented.
Networking – Social happy hours, intimate AMAs with entrepreneurs, start-up experts, and successful SFSU alumni entrepreneurs. Incubatees will also have the opportunity to meet with Bay Area angel investors and seed-stage venture capitalists. Given the University's operations plan for hybrid and remote programming this year, networking events will be conducted both in-person, and virtually via Zoom.
Upon completion of the Program, incubated concepts will have:
Developed a minimally viable product (MVP) prototype.
Applied design thinking principles to actualize and iterate product or service ideas.
Developed a financial and/or operating model that articulates the startup's growth path.
Created a stakeholder-ready pitch deck with feedback from faculty and industry mentors.
Along the way, program fellows become a member of an intimate network of fellow innovators, entrepreneurs and business professionals – spanning the SFSU community and beyond. This year's program includes the following elements:
Classes - Customize, boot-camp instruction to get you up and running on key topics such as - customer segmentation, value propositions, prototyping, team-building and leadership, revenue/business models, financial modeling, and pitching to investors.
Networking - In-person and virtual social events to connect with like minded students, mentors, and professionals.
Prototyping & Development Resources - Research and development support funding up (amount will vary by concept) for the purposes of prototyping, market research, product testing, industrial or graphic design outsourcing, etc.
Individual Coaching & Mentorship Consultations - One-on-one coaching and mentorship will be provided on each concept. Faculty, industry professionals, and start-up experts will all have a hand in critiquing and guiding incubated concepts
The Application Process
Due to the overwhelming response in prior years, our application process has been updated. Though not required, prior to applying, we strongly recommend attending one of several informational sessions:
September 16, 2-3PM & 5-6PM (Thursday)
September 17, 2-3PM & 4-5PM (Friday)
September 23, 4-5PM & 6-7PM(Thursday)
September 24, 2-3PM & 4-5PM (Friday)
September 27, 4-5PM (Monday)
September 29, 12-1PM & 4-5PM (Wednesday)

October 1, 1-2PM (Friday)
October 26, 1-2PM (Tuesday)
October 28, 1-2PM (Thursday)
How to Apply
Fill out the application form before 5:00PM PDT, November 12th, 2021.
Applicants will receive communication of next-steps within five business days of application submission. Next steps may include a request for additional information or an informal interview.
Acceptance into the 2021/2022 IncuGator cohort will be on a rolling basis, starting September 27th. Apply early for a better chance of acceptance. We anticipate a cohort of up to six concepts or 36 students.
Acceptance Criteria
We are often asked what we look for when selecting students and concepts to incubate. Our acceptance criteria might not be what you think:
For the Concepts that We Incubate
Though we are geographically located right next to Silicon Valley, we consider all concepts based on their potential to impact businesses, communities, and/or society in a positive manner. Concepts can be:
Product or service innovations.
For-profit or not-for-profit models.
Civic, industrial, or social in scope.
Technological or analog in nature.
Generically, we look for ideas or concepts that aim to do right by their community and by others. However, there are also a few concept characteristics that particularly pique our interest:
The concept targets a problem that currently is not adequately addressed through the status quo.
The concept targets a problem that addresses a significant business, social, or equity issue.
Given the concept founder(s) and the IncuGator's resources, a path to build out a demonstratable version of the concept, is reasonably feasible and realistic.
Tips for Students Applying to the Program
As with any experience or education, you get what you put in. But the stakes are even higher with the IncuGator, because the value of each encounter with a mentor, coach, and networking session is magnified by the full participation and engagement of the cohort. We choose to incubate students and teams that demonstrate the desire and ability to commit to the program through active engagement, comradery with others in the cohort (such as by asking questions, sharing experiences, providing feedback and being generous of spirit), and dedication to their startup. IncuGator's commitment to you means that we put our time, reputation and resources into you, and we expect the same level of commitment from individuals in our cohort as well.
We also look for students with concepts that will take full, active advantage of the tools, resources, mentorship and connections that we provide. This means you proactively ask for help, expand your network, experiment, iterate and overall, just take action. We mentor and coach, but we won't spoon-feed you. We will not tell you what to do, you need be capable of asking for guidance and willing to accept help, criticism and feedback. You need to be hungry and driven, yet carry yourself with humility.
There are also a few standard eligibility requirements:
Full-time/Part-time status as an SF State undergraduate or graduate student from any college, program or concentration. Must student status through the end of the academic year which you were accepted.
Minimum SFSU GPA of 2.0 (You cannot be on academic probation).
Frequently Asked Application Questions
No, this is not a class. This is a year-long fellowship where you will learn about and practice elements of innovation and entrepreneurship. There are no tests, no grades. Though there will be some lectures and deliverables, the focus is on mentorship, hands-on coaching, and network-building. However, if you would like, participation in the Program can be taken for course credit under an Independent Study designation through the Lam Family College of Business. If you do participate in the Program as a for-credit independent study, it is your responsibility to coordinate deliverables and learning outcomes with your desired instructor of record.
There is no monetary cost to participate in the IncuGator. As a matter of fact, your concept may actually receive funding to help develop your idea. While the Program is not technically "included with your tuition," its existence is made possible by a generous grant from MUFG Union Bank, N.A., with support from the Lam Family College of Business.
No, you do not have to be a student in the Lam Family College of Business to apply for or participate in the Program. Though we are housed in the Lam Family College of Business, the IncuGator is a cross-disciplinary incubator, and we actively encourage participation from students in all colleges and departments at San Francisco State.
No, you do not have to already have a startup/business idea or concept to apply, but your chances of being accepted improve greatly as we prefer to incubate concept teams, and concept founders. We do accept individuals that wish to work with a startup, however the availability of such positions will depend on the type and number of concepts that have been accepted into the cohort. If you do not have a concept that you already want to work on there are several options:
Dependent upon your interests and skill sets, we may try to find an existing concept in the cohort for you to join up with;
If you have technical, creative or business skills that complement several concepts, your talents could be best utilized as a technical expert, assisting other concepts throughout the academic year.
We want to incubate all sorts of business ideas. We welcome both for-profit and not-for-profit product and service concepts across all industries and target market segments. The concept does not have to be technology (hardware or software) based, nor does it have to be 'the next billion-dollar unicorn.' We look for concepts that have a high probability of in their effort to affect meaningful, sustainable change.
No, the IncuGator is not an investment fund, nor do we take a portion of equity on incubated concepts. The Program is a part of the Lam Family College of Business at San Francisco State University, a not-for-profit, public educational institution. Our objectives are to provide opportunities for individuals to develop intellectually, personally, and professionally. Our actions are designed to promote equity, and inspire courage to lead, create, and innovate.
Yes, you can apply as many times as you like, as an individual, or as a part of a pre-formed concept team. An individual's eligibility is only determined by their status as a current SFSU student with a minimum 2.0 GPA.
Yes and no. Yes, there will be program elements that will be open to non-Program participants, such as:
The annual Innovation Pitch Competition - entry is open to all SFSU students, and attendance is open to the public;
The annual Entrepreneurship Symposium - a conference-like event designed to develop the audience's knowledge, skills and network in the entrepreneurial space.
LFCoB courses in entrepreneurship.
Guest speaker events - We will host a number of guest speaker sessions that are open for attendance across the general SFSU community. If you are interested in joining the email list to be notified of such speakers, please sign up for our newsletter.
Because of the resource-intensive nature of the incubation process, we can only provide access to a limited number of Fellows each year.
It's complicated. If you apply as an individual, then no, you cannot participate in the IncuGator, as the Program is designed as an academic year-long experience. However, if you have applied as a member of a concept team, and other members of the team still have student status at SFSU during the Spring semester, then the concept team can continue in the program, but please confer with the program director on how you might continue on with the program in the Spring semester.
First, make sure that you meet the individual eligibility requirements (status as a current SFSU student with a minimum 2.0 GPA). If you meet those requirements, we also take into consideration whether you will be a Fall graduate, or whether you will be able to complete the entire academic year of the program. We also take into consideration the portfolio of concepts that we will be incubating for the year. We try to balance the cohort with a variety of concepts (services/products, tech/analog, (not)for-profit, civic/industrial). Sometimes, we just get too many similar ideas, and we have to make tough choices when creating a diverse cohort.
Our Current Incubation Portfolio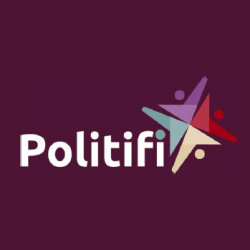 Politifi
Local politics is broken. People wanting to advocate for their communities within the government can be left with zero resources, even when their message is good. With this app, however, you can help change that by finding the candidates you deserve, and listening for when they need people to mobilize for them.
Lupini Milk Co.
High protein plant-based milk made from lupini beans.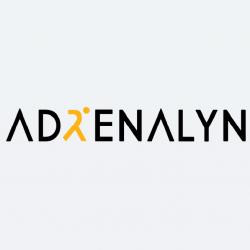 Adrenalyn
Performance athletic apparel for enhancing the experience for track and field athletes.
Incubated Concepts
2021-2020
New:
TBD
Returning:
Adrenalyn (Athletic apparel)
Lupini Milk Co.(Food & Beverage)
2020-2021
Adrenalyn (Athletic apparel)
Influpeach (Information Systems/Technology)
LevelUp Prep (Information Systems/Technology)
Lupini Milk Co.(Food & Beverage)
Politifi (Information Systems/Technology)
2019-2020
EduMusic (Education & Technology)
Noble Neighbor (Digital Media)
SimbaPolice (Information Systems/Technology)
Vivently (Information Systems/Technology)