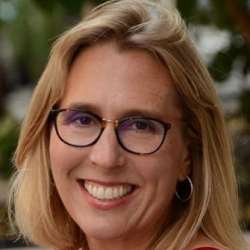 Susan Cholette, Ph.D.
Professor of Decision Sciences
Director, Center for Ethical & Sustainable Business
Lam-Larsen Distinguished Teaching Professor 2021-2023
Decision Sciences Professor Susan Cholette's early career was industry-focused - her research background in building large scale economic models that tracked greenhouse gas emissions and her desire to stay rooted in the Bay Area led to positions in supply chain consulting and project management. Through a stroke of luck, Cholette was presented with an opportunity to work in academia. Today, after two decades as a professor, she still brings her industry experiences into the classroom as a powerful tool for teaching students to build skills in forecasting, inventory management, and more.
Cholette's courses are described by students as highly engaging, experiential, and fun. "I try to keep my courses from becoming just another set of lectures," she says. "When we are in the classroom, be it in person or Zoom breakout rooms, I make use of group labs for experiential learning." Tackling more complex concepts, like linear programming, with simulations and interactive games encourages deeper understanding in the classroom and enhances her students' knowledge of real-world applications.
One way Cholette keeps students engaged with current issues in supply chains caused by the COVID-19 pandemic is by using a simulation that looks at how to distribute vaccines during an emergency, when both supply and demand are in flux. The skills gained through exercises like this one will serve students in their careers, Cholette believes. "There are jobs to be had fixing these problems in both the short and long term to make sure that businesses are more resilient when the next crisis strikes."
Principles of sustainability – an area of focus in Cholette's research – are also integrated into her course curriculum. "I'm one of those old-timers that started studying climate change back in 1992, but then I was focused more on large-scale models," she reflects. "Now I focus on what individual businesses can do to reduce their carbon footprint." During her supply chain management lessons, Cholette asks students to research a product of their choice and the journey it takes from production to purchase. "They calculate the carbon footprint associated with this journey and consider alternative ways of getting this product to their customers. I enjoy seeing what products appeal to students."
It is no surprise that Cholette recently received an inaugural Lam-Larsen Distinguished Teaching Professorship Award in recognition of excellent teaching, innovative instruction, and significant contributions to improving the curriculum at our college. "Awardees receive a generous stipend to mentor junior faculty who want to improve something about their teaching, and we will work together in a one-on-one setting over the course of the year to work on these goals," she says. "This is an amazing opportunity that I wish I could have had as a junior faculty, so I'm grateful to our generous donors for making this happen for our next generation of instructors." In addition to mentorship, Cholette and other awardees lead workshops open to all SF State faculty. One recent session involved playing Cholette's vaccine distribution game as a way to learn about decision-making and the impact of interactive games on student engagement.
Aside from her teaching and mentorship roles, Cholette is also the new director of the Center for Ethical and Sustainable Business, where she works with the college's Career Services & Professional Development team, alumni, and local employers to mentor students and help them pursue internships and jobs that will enable them to address and solve issues related to social justice and the environment. "Students are concerned about the planet's future, and while organizing the occasional beach clean-up is fun, we have to find ways to involve them that will directly translate into helping them launch future careers." Additionally, Cholette sees opportunities to work on sustainability through interdisciplinary engagement with students from other colleges at San Francisco State.
Visit our Decision Sciences Department page to learn more about the programs and courses we offer in this field. Learn more about the Center for Ethical & Sustainable Business on our website.