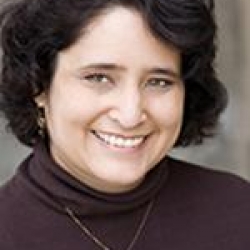 Theresa Roeder, Ph.D.
Professor
Phone: (415) 338-1819
Email: tmroeder@sfsu.edu
Location: BUS 203C
Office Hours:
Mon:
3:00 pm - 4:00 pm
BUS 203C
Tue:
12:00 pm - 2:00 pm
Zoom
Wed:
1:00 pm - 2:00 pm
Zoom
Theresa Roeder joined the department of Decision Sciences in 2005, after receiving her Ph.D. from UC Berkeley in 2004.
Her research is primarily in the field of discrete-event computer simulation, where she has worked extensively with the semiconductor industry. There, the focus is on investigating alternate approaches to simulation that would reduce the run times and/or development times.
Theresa is originally from Germany, and moved to California in 1999 after a five-year stint at Case Western Reserve University in Cleveland, OH. She is a happy member of the Oakland Symphony Chorus, on whose board she also serves.
Education: 
Ph.D. (2004), University of California, Berkeley
Research Interests: 
Discrete-event simulation
Modeling heuristics for simulation with limited information
Simulating large-scale highly-congested systems
Honors and Awards: 
Intel Distinguished Service Award
President's Fellowship