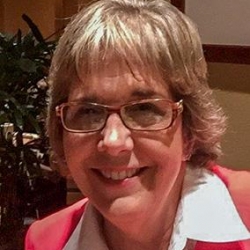 Kristine Caratan, M.N.A.
Retired Lecturer Faculty
PROFESSIONAL EXPERIENCE
CONSULTANT -- January 2011-Present
I retired from public accounting after nearly 37 years to pursue a full time career in the NFP arena. I decided to research and complete careful due diligence for this next phase of my professional life. In the interim, I have been consulted for various NFPs throughout California.
Projects have included:
Board retreat facilitation
In-service training to grant making staff on understanding financial statements
Revenue recognition issues
Net asset review, with special attention to endowment restrictions
Preparation for audit, including complete redraft of financial statements
Analysis of complex financing arrangements
Internal audit of subordinate organizations
MOSS ADAMS LLP -- San Francisco, California
Audit Partner -- Northern California NFP Practice Leader -- 2001-2010
Audit Senior -- 1977-1978
As practice leader for Northern California, I created a practice for the firm that did not exist prior to my rejoining in 2001. This required developing the brand name for the firm in the not-for-profit community, identifying and training staff in NFP accounting and auditing, and building a coalition within the entire firm. Provided high quality audit and consulting services to a large variety of NFP clients. I have also presented on a variety of topics (accounting and auditing) to a wide variety of organizations. A sampling of my client projects and presentations include:
In depth analysis of the impact of FAS 157 and FSP117-1 on financial statement reporting; presented several times to various groups on both topics
Operational reviews during the Risk Assessment implementation period
Cash flow modeling
Comparison of investments held to investment policies
Communications between finance and development departments
Assistance in formulating audit and finance committee charters
Review of IT structures (accounting focused)
Worked with clients with investment portfolios ranging in size from $250k to $1.7 billion; provided advice on more effective monitoring procedures of investment managers
Provided assistance on interpreting actuarial reports for defined benefit plans for purposes of financial statement disclosures in accordance with FAS 158
Multiple presentations on communications with those charged with governance
Presentation on implementation of ASC 70 (FIN 48)
Revenue recognition policies and procedures
Assistance with re-engineering functional expense categorization
Effectively coordinated tax and audit teams on multiple engagements running simultaneously
The firm employed me in the late 1970s as an audit senior. My decision to return to the firm was based entirely on the opportunity to build a practice devoted to not for profits located in the greater Bay Area.
BERTORELLI & COMPANY -- San Francisco, California
Audit Partner -- Director of Quality Control 1991-2000
During my tenure at Bertorelli & Company, as well as being the sole audit partner, I was responsible for developing the firm.
Education: 
M.N.A (2014), University of San Francisco
B.S. in Accounting (1974), Santa Clara University
Honors and Awards: 
Woman CPA of the Year, American Women's Society of CPAs. (September 2010).