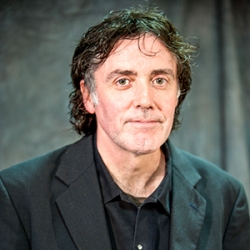 John Logan, Ph.D.
Professor and Chair of Labor and Employment Studies Department
Professor John Logan has always been fascinated by labor and workplace issues, so being able to spend his professional life researching and teaching on the topic seemed like "too good an opportunity to pass up." Early in his career, Logan spent ten years teaching at the London School of Economics and Political Science, later becoming research director at the University of California Berkeley Labor Center before joining the Lam Family College of Business as the Director of Labor Studies in 2010.
Logan's research focuses on US labor relations, exploring how public policy and employer opposition have made it more difficult for workers to form unions in the US than is the case in any other developed democracy. He has also written about global labor issues, working with the International Labour Organization, a part of the United Nations, and several global union federations.
In recent months, the COVID-19 pandemic has been a catalyst for changing worker-employer relations across the country. "The pandemic has accelerated several developments in the labor force that were already taking place – the spread of automation, the growth of the gig economy, and the polarization of the workforce, with even greater income inequality," Logan says. "Overwhelmingly, of course, these developments are bad for workers, and make even clearer the need for strong, independent representation at the workplace through unions, which benefit their members in higher pay, improved healthcare and pensions, and a safer work environment."
Logan believes learning about labor issues provides real-world value to our students. "The overwhelming majority of our students work, many working full-time," he says. "It's important they understand how the world of work is changing – which occupations are growing and which ones are disappearing – and important to know what rights and protections they and their colleagues have at work." Whether students are newly entering the business world or hold a management position, Logan suggests reading books like Ibram X. Kendi's How to Be an Anti-Racist and Ruchika Tulshyan's The Diversity Advantage, which can provide insight about advocating for equity and a framework for creating space to discuss workplace diversity.
The LFCOB's tagline, Innovate Sustainably. Lead Responsibly., is embodied by the Labor Studies program, which Logan describes as a model of innovation. "The program is unrecognizable from where it was a decade ago," he says. "Our commitment to social responsibility and social justice, sustainability and equity is reflected in everything we do… we incorporate our commitment to racial and gender equity and justice in almost every topic we teach." These values are also reflected in what Logan enjoys most about San Francisco State, "the university's outstanding faculty and students, its racial, ethnic and economic diversity, and its decades-long commitment to racial and economic justice. We take great pride in such things, though everyone strives to do better on these issues."
Logan finds himself inspired by not only the diverse backgrounds of members of the University, but also how students put the lessons they learn in the classroom into practice. "In recent years, I have had an undocumented student who now works full-time at the ILO in Geneva; a Black student who now holds a senior position at a powerful local hospitality union; and a Latinx student who played a key role in the enactment of San Francisco's first-in-the-nation "retail workers bill of rights" and received a national human rights award for her work on it. The students make SFSU the unique place it is."
Visit our Labor and Employment Studies page to learn more about this program and the variety of courses we offer in this field.