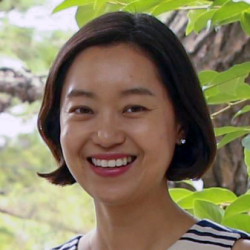 Yeonka (Sophia) Kim, Ph.D.
( She/Her/Hers )
Assistant Professor
Email: yeonkakim@sfsu.edu
Location: BUS 303
Office Hours:
Tue:
1:00 pm - 3:00 pm
BUS 303
Thu:
12:30 pm - 1:30 pm
Online
Yeonka (Sophia) Kim is an Assistant Professor in the Management Department of San Francisco State University. She received her Ph.D. in Business Administration (Concentration: Organizational Behavior/Human Resources) from the University of Minnesota and M.I.L.R. (Concentration: Human Resources/Organizations) from Cornell University. Right before joining SFSU, she was promoted to Associate Professor and tenured at the University of Wisconsin-La Crosse. 
Her research focuses on work-life interface, identity management, diversity, and emotions in organizations. She is passionate to understand how diverse individuals can thrive in their work and non-work lives and how organizations can create an effective, inclusive, and emotionally healthy work environment by supporting the diverse organizational members. She has published papers in various outlets, including the Academy of Management Journal, Journal of Applied Psychology, and Journal of Psychology and presented at several academic conferences.
She worked as a manager in Chairman's office and HR department in the film/chemical and telecommunication industries in South Korea prior to changing her career to academic field.