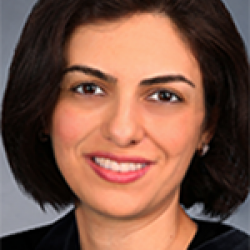 Manely Sharifian, Ph.D.
Assistant Professor
Email: manely@sfsu.edu
Location: BUS 350
Office Hours:
Mon:
11:30 am - 12:30 pm, 3:30 pm - 4:30 pm
By appointment biweekly in person. In person office hours will be held the week the class is in person. Online office hours will be held from Monday: 12:30-14:30 by appointment online.,
Wed:
5:30 pm - 6:30 pm
By appointment online
Department
Center for Ethical and Sustainable Business
Management
Manely Sharifian is an assistant professor of management in the Lam Family College of Business. She teaches business and society courses at SF state, and prior to that lectured in strategic management, and organization behavior at University of Alberta. Manely's research examines the industry and country conditions that stimulate clean technology patenting, and the political, economic, and firm-specific features of cleantech start-ups that attract investment capital. In both her R&D and commercialization (supply and demand side) analyses, she controls for standard economic and policy features of country and regional contexts, focusing instead on how firm and management identities enable clean tech ventures to launch and succeed. Manely is also interested in women's entrepreneurship; she won the Best Paper Award in the "Entrepreneurship and Gender" section at the Diana-ACERE Conference in Australia 2012. She earned her Ph.D. in business from University of Alberta in Canada and her M.S. in management and economics of innovation from Chalmers University of Technology in Sweden. Prior to that she worked for several years in oil and gas consulting companies in Iran. She earned her B.S. in Industrial Engineering from Amirkabir University of Technology in Iran.
Education: 
B.S. in Industrial Engineering, Amirkabir University of Technology, Iran
M.S. in Management and Economics of Innovation, Chalmers University of Technology, Sweden
Ph.D. in Business, University of Alberta, Canada